Specialised Massages
We offer a range of specialised massages from around the world at Primas Medispa. The techniques behind these massages stretch back centuries and have stood the test of time.
Our team of clinicians here at Primas have updated them to blend the ancient benefits with the new to truly relax and de-stress the mind and body.

Benefits of Specialised Massages
Deep-tissue massage
Deep-tissue massages are localised to the back, neck and shoulders, the body's three most common areas where strain and tightness manifest.
If you've been suffering from chronic pain or injury, deep-tissue massages can be particularly helpful at relieving your symptoms.
Aches, pains and knots can build up over time in the body as you put it through stress, whether through exercise or working in a sedentary office job.
When experiencing chronic pain on a daily basis, it can be hard to believe you'll ever be free from discomfort. But deep-tissue massages target tightness and knots, which can lead to pain or discomfort as the massage therapist works on areas of concern.
The important thing to remember is that this pain is temporary. Try to avoid tensing your body, as this will make the therapist's job harder. Instead, relax and try to trust the process.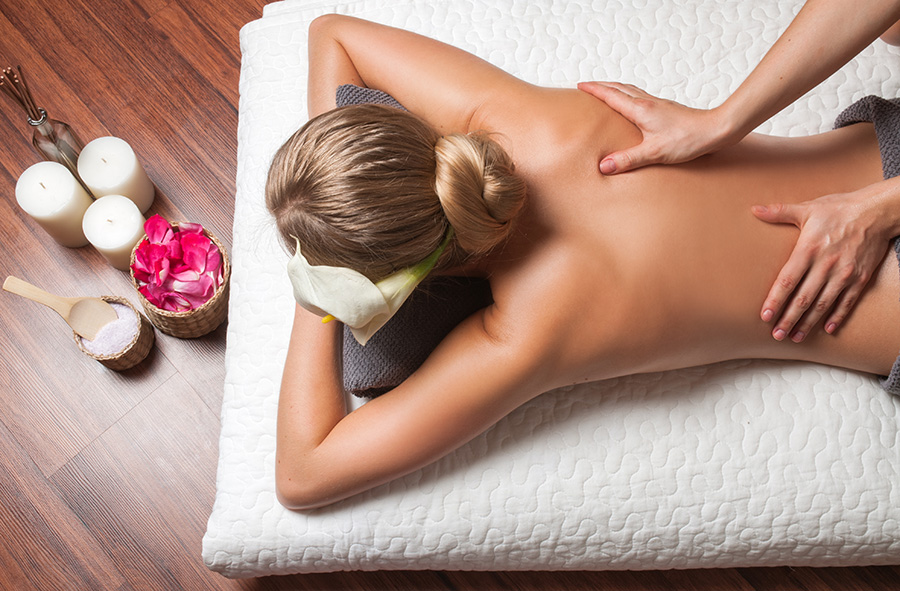 The benefits of hot stone massages
Reduce muscle pain, tension and spasms
Promote relaxation throughout the treated areas
Detoxify and improve skin appearance
Alleviate stress and anxiety
Promote circulation and vitality
Improve sleep hygiene
Hot stone massage
This type of massage therapy uses heated stones placed at specific intervals on your body to warm the muscles and skin, allowing deeper pressure to be comfortably applied.
The stones used in hot stone massages are typically basalt river stones, as they are smooth because water flows and retains heat particularly well.
To get the stones up to the desired temperature, the therapist will heat the stones in a purpose-built stone heater until they are within the safe range of between 110–130°F.
Stones are placed parallel along the left and right side of the spine, in your palms and on your legs, stomach and feet. They can be placed in other areas depending on your medical history and ailments.
Reflexology massage
By applying pressure to the feet, hands and ears, reflexology massages attempt to boost your overall health. The rationale behind applying varying levels of pressure to these body parts is that these specific areas are linked to the organs and body functions.
Reflexology massages take anywhere from 30–60 minutes. During the treatment, your massage therapist will focus on applying pressure to your feet, certain areas of which are linked to the alleviation of particular ailments, so let your therapist know any pains or troubles you've been having to get the most out of your session.
The benefits of reflexology
Boosts blood flow and circulation
Assists in relaxation
Promotes improved sleep
Offers relief from chronic pains
Uplifts mood and may reduce symptoms of depression
Reduces feet swelling
Improves overall health
The benefits of pregnancy massages
Reduction of stress and promotion of relaxation
Relief from muscle pains, cramps and stressors throughout the lower back, neck, hips and legs.
Circulation is boosted, which reduces swelling
Alleviates labour pain and can make childbirth more comfortable
Boosting the mood of the expectant mother
Weight-bearing joints have pressure relieved
Pregnancy massages - soothe pregnancy aches and pains
During pregnancy, the body changes more than any other time of your life (except perhaps during puberty). The enormous changes felt throughout your body during pregnancy can bring stress and strain to your muscles and joints. However, you don't have to remain stoic. There's a solution which can bring back your vitality and range of movement while you're preparing for birth.
Pregnancy massages—prenatal or postnatal—typically last an hour and use a special table to avoid pressure on your belly. Pregnancy massages will often include techniques from Swedish deep-tissue massages.
Of course, pregnancy massages avoid pressure on the belly of the expectant mother, as well as other pressure points which have been anecdotally linked with triggering contractions of mothers in the second or third trimester.
Swedish massage - our most popular massage
Swedish massages are the most popular therapy we offer.
These massages use four common and effective massage techniques: effleurage, petrissage, friction and tapotement. These massage techniques combine to equal a full-body massage.
These techniques include gliding, kneading and tapping movements to relax your body and mind, reduce muscle tension and improve circulation.
Swedish massages last up to 90 minutes. You'll leave your session feeling revitalised and ready to live life to its fullest.
The benefits of Swedish massage
Improved mood from endorphin stimulation
Blood flow is optimised
Increased flexibility and vitality
Body relaxes as parasympathetic response is produced in the nervous system
Skin health is boosted and toxins are flushed out of the system
The benefits of an Indian Head massage
Released tension throughout your body
Improved blood circulation
A feeling of calmness and well-being throughout your body
Relaxed muscles
Reduced fatigue and emotional stress
Indian head massages - promotes wellness
Turn to the centuries-old wisdom of the Indian head massage technique to enjoy deep relaxation and a sensation of true vitality.
During this massage your therapist will work with various parts of your body including your head, shoulders, upper back, arms, neck, scalp and face to spread relaxation throughout your frame.
Your massage therapist will use their knowledge of pressure points on the face and head to leave you feeling refreshed and revived.
|   | Duration | Price |
| --- | --- | --- |
| Manual Lymphatic Drainage Massage | 45 mins | £88 |
| Anti Cellulite Massage | 45 mins | £85 |
| Simming Massage | 60 mins | £92 |
| Cupping |   | From £80 |