Introducing Belgravia Dermatology: Our New Partners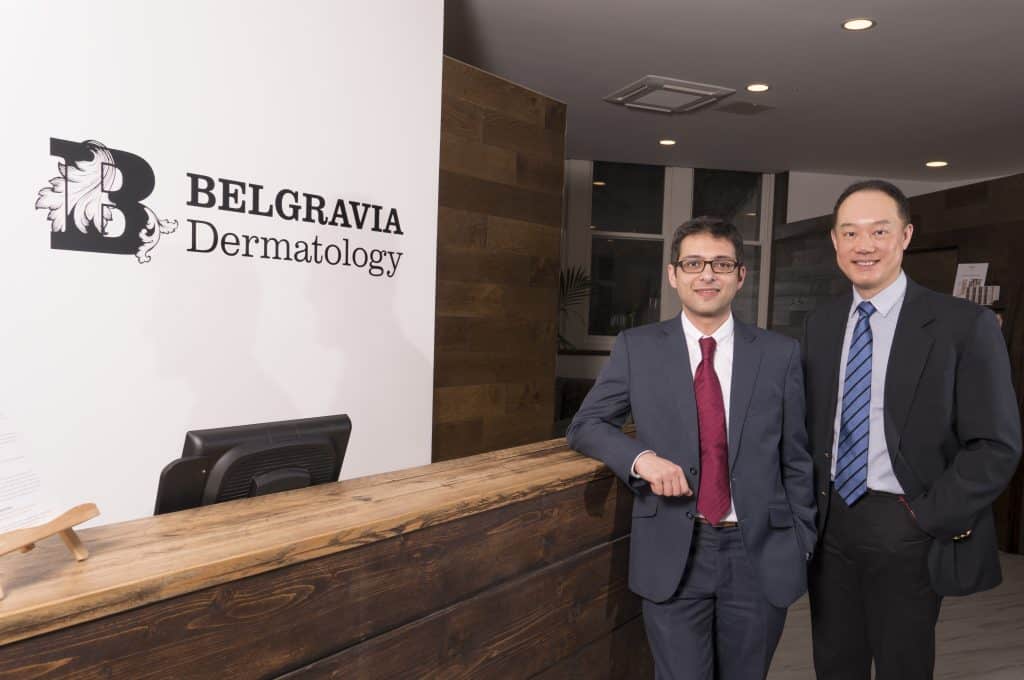 At Primas MediSpa, we're dedicated to offering our customers the best aesthetic treatments in Central London, from facial spa services to cellulite removal. That's why we jumped at the opportunity to work with the incredible Belgravia Dermatology team at our brand-new premises.
If you came down to celebrate the new clinic launch (thank you!) you'll have met Dr Harry Judodihardjo and Dr Sajjad Rajpar from Belgravia on the night. If you couldn't make it, let us take the opportunity to tell you a bit more about the talented Belgravia team and the fantastic skin health, beauty and wellness services they will be offering alongside the Primas team.
The Belgravia team
The Belgravia Dermatology team brings more than 30 years of skincare experience to the Primas Medispa fold. This company shares our passion for building bespoke connections with our clients, which is how they have earned such a strong reputation for exceptional care and results during their time in business.
"We focus on developing long-term relationships, helping our patients reach their goals with a bespoke service."
The doctors behind Belgravia Dermatology are equipped with the knowledge and skills necessary to treat various skincare issues, with an impressive background in aesthetic health.
Dr Harry Judodihardjo is an expert cosmetic dermatologist with more than 20 years of experience in his field. After performing more than 20,000 treatments from his Central London beauty clinic, Dr Judodihardjo has become one of the most experienced UK doctors in his field.
Dr Judodihardjo works alongside his renowned colleague Dr Sajjad Rajpar, a consultant dermatologist with more than 15 years of experience. Dr Rajpar offers clients his respect, knowledge and treatment skill, along with unmatched expertise. When he's not working for Belgravia, Dr Rajpar is publishing skin cancer textbooks or leading classes in skin surgery at major teaching hospitals – a level of experience we're truly excited to embrace from our new clinic.
Belgravia and Primas Medispa: Specialists in skincare
Though Primas Medispa already offers a range of spa services from facials to laser hair removal, our partnership with Belgravia has expanded our skincare portfolio for a truly holistic beauty experience.
The Belgravia Dermatology Subtle Harmony programme really caught our attention as a game-changing approach to aesthetic medicine. Under the programme, Dr Judodihardjo and Dr Rajpar provide:
The Belgravia team can diagnose and manage conditions that affect your skin and nails with solutions like cryotherapy and skin biopsies.
With their combination of aesthetic and medical knowledge, the team can comprehensively diagnose skin problems and offer bespoke treatment programmes for lesions, moles, and even skin cancers. Belgravia offer the latest Visia Skin Analysis techniques for dermatological diagnosis.
Dr Judodihardjo and Dr Rajpar can also offer support for the assessment, diagnosis, and treatment of conditions that cause hair loss.
Just like Primas Medispa, Belgravia Dermatology is committed to providing personalised, custom-made treatments for their clients, based on their unique skin conditions and concerns. They were the first to bring the Tixel treatment for non-surgical facial spa rejuvenation to the UK and Central London, and they're still delivering new innovations to the beauty world today.
"Our treatment and services cover every aspect of skin health and appearance from dermatology and skin cancer to appearance medicine using the latest techniques."
Come and meet the team
Whether you want to book a consultation, or simply have some questions about our new skincare services, the Primas Medispa team are always here to help – and with the new talent, knowledge and expertise of the Belgravia team working with us, we're thrilled to be in a position to offer a truly holistic range of aesthetic treatments under one roof.