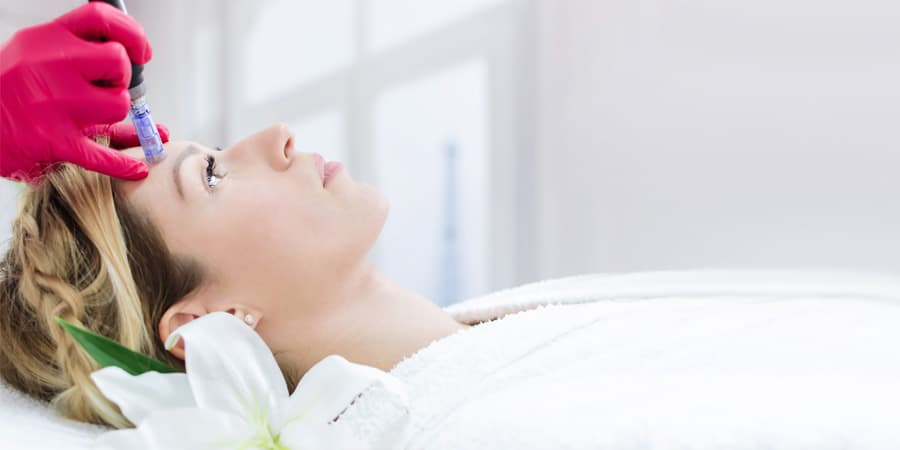 Mesotherapy
Mesotherapy allows you to reveal a brighter, fresher complexion with a minimally invasive procedure. Boost your skin's collagen and elastin with Mesotherapy at Primas Medispa in the heart of London.
ENJOY A RANGE OF RESULTS WITH MESOTHERAPY
At Primas Medispa, we are proud to offer all our clients our Mesotherapy treatment, which is scientifically proven to help you look younger and reduce the early signs of ageing.
With our Mesotherapy treatment you can achieve a brightened and fresher complexion, target body fat, hair loss and reduce the appearance of cellulite, fine lines, wrinkles, pigmentation and much more. Following this microneedling treatment you will notice firmer skin, your body will become more contoured and hair loss and pigmentation will be improved.
We know that you can look great at any age, but the signs of tiredness and stress that are sometimes visible in our complexions can sometimes make us feel self-conscious about our appearance. That's why we now offer Mesotherapy microneedling injections as a way to help combat the signs of ageing.
There are several beauty benefits of Mesotherapy that go beyond just brightening the complexion. It is also an ideal solution to target weight loss due to its unique way of targeting certain areas of body fat and cellulite, resulting in an improved, more contoured body.
It has been known that liposuction can often result in cellulite to looking worse post-recovery due to the excess skin that is left behind following the procedure. However, Mesotherapy can target the appearance of cellulite in a highly selective and natural way that reduces the risk of causing excess skin. Following a Mesotherapy treatment for cellulite, you will see a dramatic difference and be left with even and smooth skin.
Mesotherapy is also a great, minimally invasive anti-ageing treatment because it can reduce the appearance of fine lines, wrinkles and it can even help to firm up sagging and loose skin. Mesotherapy can be used on the face as well as the body and it's extremely popular with treating the hands and neck for a more youthful appearance.
How Does Mesotherapy Work?
Mesotherapy is a minimally invasive procedure that helps to eliminate the signs of tiredness and stress that can be responsible for the first signs of ageing.
A series of gentle, pain-free microneedle injections of a collagen-boosting cocktail of vitamins, amino acids and minerals are distributed directly to the mesodermal layer of the skin. We are incredibly proud to be one of the few London beauty clinics to offer our clients this exciting, industry-leading treatment to help boost your complexion.
These incredible ingredients then get to work rejuvenating and repairing your skin whilst increasing the production of collagen and elastin at the same time. These proteins have been scientifically proven to be important for ensuring the natural elasticity of the skin, which helps to reduce the first signs of ageing, such as fine lines, sun damage, uneven pigmentation and superficial wrinkles.
Hectic lifestyles and the environmental damage caused by pollution and UV exposure can result in your skin looking dull and tired. But the potent ingredients used in our Mesotherapy treatment available at Primas Medispa can help to bring the skin's natural glow back for longer and help combat the visible signs of ageing.
Our Mesotherapy treatment typically takes 30 minutes and requires minimal downtime afterwards, taking an average of 24 hours post-treatment for a full recovery. An anaesthetic cream is used for those with sensitive skin which is carefully applied under the supervision of our beauty experts.
The custom-designed Mesotherapy session can really kick-start your skin's natural production of collagen and elastin through the use of the stimulating ingredients included in this treatment. This, we believe, will help to take years off your complexion.
IS MESOTHERAPY RIGHT FOR YOU?
At Primas Medispa, we recommend Mesotherapy as a clinically successful treatment to help reduce the visible signs of fatigue, stress and environmental irritants that make the skin look dull and fatigued. If you find that your appearance isn't quite reflecting your natural vibrancy or if you're concerned about the first, visible signs of ageing, then Mesotherapy could be the right treatment for you.
AN INNOVATIVE TREATMENT FOR CELLULITE, STRETCH MARKS AND HAIR LOSS
We offer our Mesotherapy clients a bespoke treatment plan customised to fit in with your unique beauty aspirations. We prefer to work in this way to help all of our clients achieve the beauty results they are looking for.
| Treament | Session |
| --- | --- |
| Mesotherapy (From) | £200 |
| Plasma | £200 |