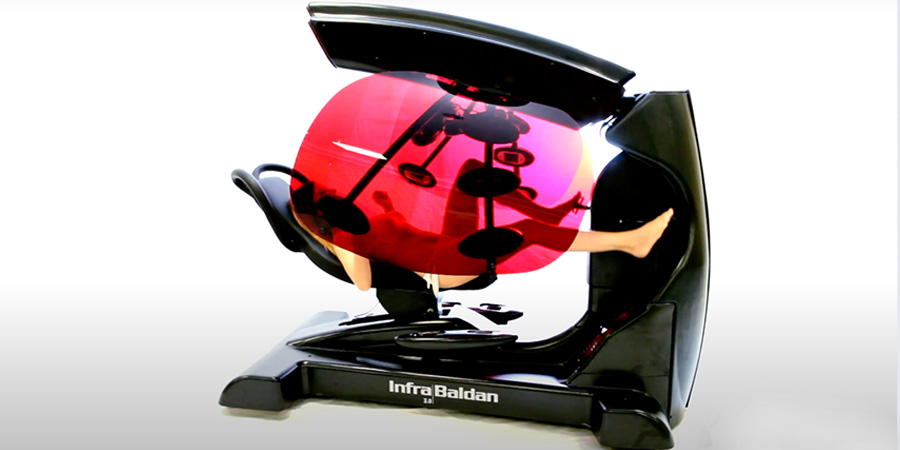 Infrabaldan 3.0 (Infrared light therapy)

HOW DOES THE INFRABALDAN 3.0 SYSTEM WORK?
Infrabaldan 3.0 works by combining Near Infrared light on the body, with low-intensity cycling exercise, it has been scientifically proven to boost metabolism, which makes the body burn fat lipids.
By stimulating and training the metabolism, fat continues to burn for up to 24 hours after exercise. Infrabaldan 3.0 can offer many health benefits of near-infrared therapy, and is a unique fat reduction system.
Using Near-Infrared lamps on specific areas of the body, with Infrabaldan 3.0 you can target those problem areas, contouring and toning your body effectively. Infrabaldan 3.0 synchronises with your heart rate and is tailored to each client perfectly no matter which fitness level you may be.
WHAT IS NEAR INFRARED THERAPY?

Near Infrared is a light based therapy, it is natural, painless and non-surgical. It penetrates the inner layers of your skin, down to your muscles, nerves and bones, stimulating cells and increasing your metabolic rate and circulatory system.
WHAT TO EXPECT FROM AN INFRABALDAN 3.0 THERAPY SESSION
A session on the Infrabalan takes approximately 40 minutes and is tailored to each client specifically. It is a relaxing experience, as you are seated inside the Infrabaldan 3.0 machine where you are to cycle constantly. Simultaneously the near-infrared lamps work to activate the cells in your skin.
The Infrabaldan 3.0 machine has a built-in television screen so you can view your favorite Netflix shows as your treatment passes, giving you 40 minutes of complete you-time. Once your session comes to an end, your metabolism has been 're-educated', just monthly maintenance sessions will be needed to sustain results.
|   | Session | 3 Sessions | 6 Sessions |
| --- | --- | --- | --- |
|   | £250 | £675 | £1200 |