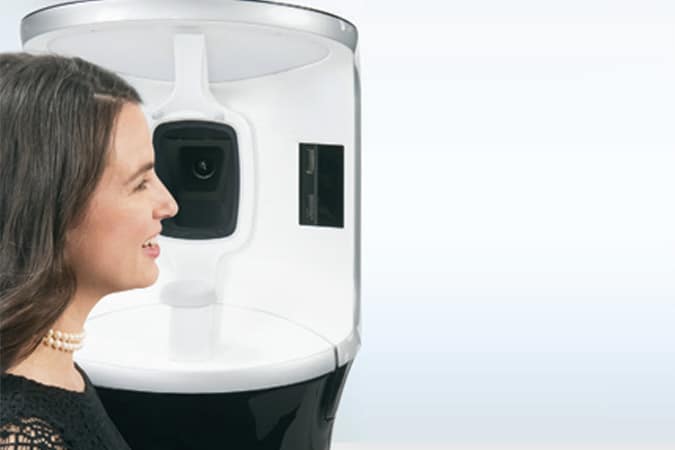 Visia digital skin analysis
Choosing the right skin care treatment can seem challenging, and many of us wish there was a way to know exactly what would benefit our skin the most. Now there is. We are proud to offer the most precise and advanced digital skin analysis technology available.
What is Visia digital skin analysis?
Visia is a digital imaging system that evaluates skin not just on the surface, but on sub-surface levels. A significant advantage to knowing what is going on beneath the surface of your skin. It is the perfect way to get an objective computerised assessment of your skin health and learn about treatments to improve it.
VISIA scans measure eight key areas of your complexion including pigmentation, pore size, and porphyrins (evidence of bacteria lodged in pores), UV spots, sun damage, texture, and wrinkles to determine where your skin might need some extra help. The analysis takes just a few minutes and is interpreted by a trained expert. Much like having your photo taken, it is non-invasive, safe and completely painless!
Having an in-depth Skin Consultation with VISIA® Facial Analysis helps identify areas of concern as well as informing a treatment plan. It allows your aesthetician to determine the most appropriate skincare regime focussed on your precise skincare needs and goals. We can then monitor the progress of your skin journey over the longer term, quantifying your results scientifically and accurately.
It also means that when we say your skincare journey at Primas MediSpa is tailored for you, we really mean it!
Technique
VISIA Skin Analysis is a medical-grade evaluation that uses RBX technology. It works by capturing left, right, and frontal facial views, giving us a clear picture of your skin. The system will not only highlight visible problems but also the unseen and underlying problems that cannot be seen with the naked eye. It provides an assessment of your skin and has the ability to zoom in for a close examination of fine detail. You will be able to see how yours ranks against the skin of people of the same age, gender and skin type. You'll also see pictures of your skin and the trouble spots in each of the categories with recommendations of what treatments and clinical home care procedures will improve the condition of your skin.