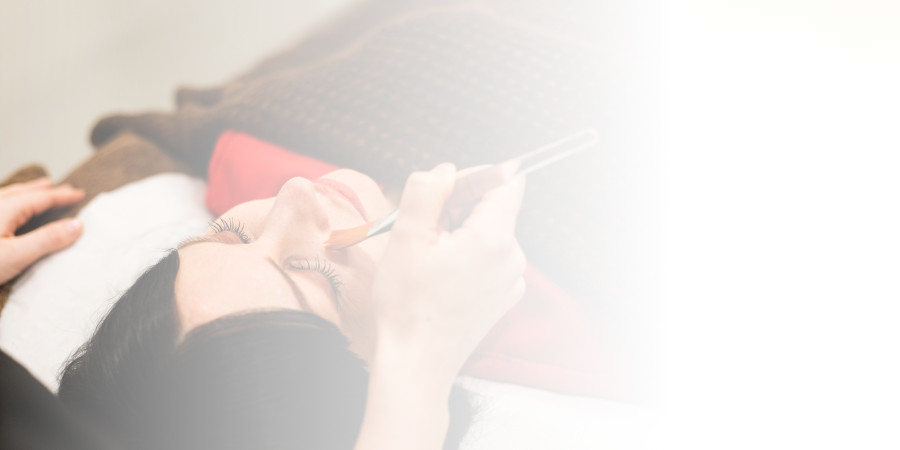 Skin Peels
Peel away your blemish marks and revive your complexion, revealing fresh, smooth, youthful skin with an expertly formulated range of far-reaching, long-lasting skin peels at the Primas Medispa beauty clinic in Central London.
What are Skin peels?
At Primas Medispa, our bespoke treatment packages are tailor-made for you. Our aesthetic experts will assess your unique skin tone and makeup to recommend the best individual treatment for you. No two faces are alike, so why use a homogenised product which might not work for your skin?
Our clinicians use gentle yet effective enzymes and acids to exfoliate and remove dead layers of skin, revealing the fresh face hiding beneath. These treatments are 100% safe and will leave your face glowing.
We offer skin peel treatments that harness naturally occurring ingredients to brighten and rejuvenate your skin, reducing the appearance of open pores, removing dead skin cells and banishing blemishes.
Over time your skin will lose its vitality and youthful look because of everyday stresses and strains, pollution and the chemical makeup of the cosmetics in your beauty regime. Skin peels purify the skin and help you look your best—every day.
Technique
Every treatment starts with a consultation so that both you and the therapist will understand the specifics of what your skin needs and discuss what are the results you wish to achieve from your treatments. Once the type of peel has been decided, we will go forward with the treatment and get you started on the pre and post care.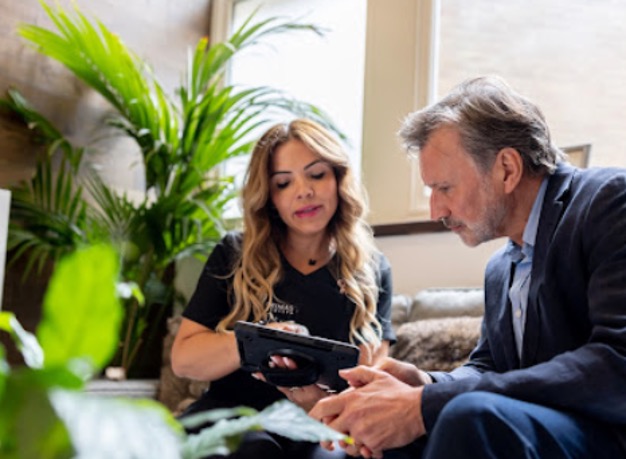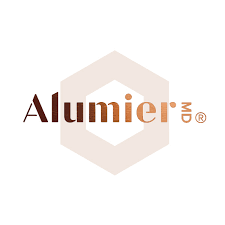 Alumier MD Professional

Alumier MD Peels are the next generation of clinical exfoliation. With a variety of peels, each with a unique complex of ingredients, your therapist can customise your treatments to target your specific skin concerns and reveal a more radiant, soft and luminous skin.
AlumierMD homecare products must be used at least 2 weeks prior to receiving these peels. All treatments include a post-treatment kit that will enhance and maintain your outstanding results.
VITAMIN A BOOST (Acne, hyperpigmentation & Ageing)
Vitamin A boost contains pure retinol and lactic acid that reduces the appearance of fine lines, wrinkles and hyperpigmentation by boosting collagen production and increasing cell turnover, creating a more radiant and even complexion.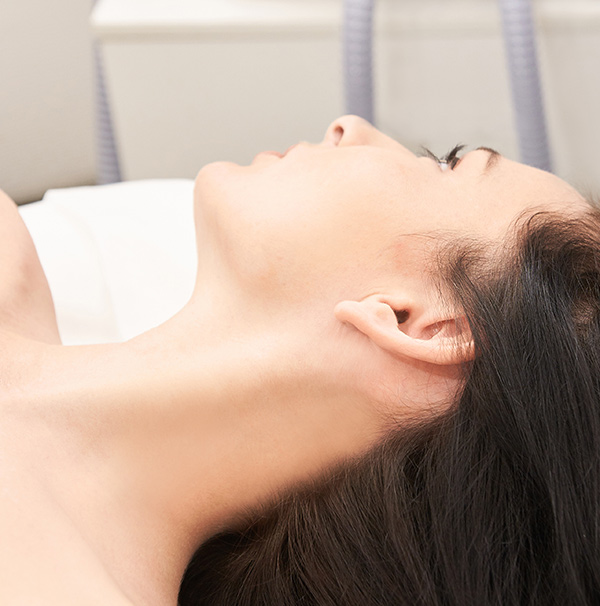 DETOX CLEAR (Acne, congestion)
Detox clear contains salicylic and lactic acid for excellent pore penetration and exfoliation. Salicylic acid penetrates into the pores and exfoliates dead skin cells and excess sebum. Lactic acid exfoliates dead skin cells and hydrates whilst eucalyptus provides strong astringent properties. Together, they work to smooth skin, minimise pore size experience, reduce acne and prevent new pimples from forming.
RADIANT 20/10 (Acne, hyperpigmentation, uneven skin tone, congestion, open pores & oiliness)

With lactic and salicylic acid, radiant 20/10 resurfacing peel contains a powerful combination of
both of these ingredients which improves skin tone and texture by exfoliating dead skin cells and
speeding cell turnover. The multipurpose resurfacing peel reduces acne and pimples, as well as
minimising the appearance of fine lines and wrinkles, large pores, hyperpigmentation and sun
damage.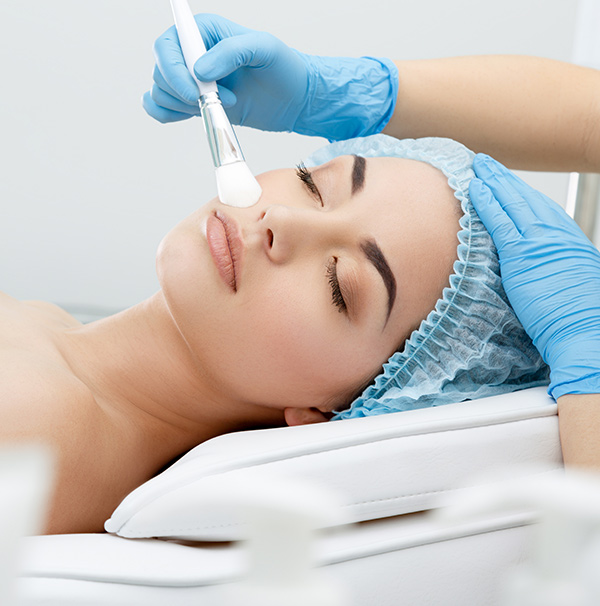 RADIANT 30 (hyperpigmentation, uneven skin tone, dull skin, line & wrinkles)
Radiant 30 is an alpha hydroxy acid resurfacing peel containing lactic acid to exfoliate dead skin cells, boost cell turnover and stimulate collagen. This improves skin texture and tone whilst the multifunctional peel targets multiple skin conditions, including fine lines and wrinkles, discolouration, sun damage and large pores.
VITAMIN A BOOST/DETOX CLEAR/ENZYME RE-TEXTURING (Can be added to any of the Peels)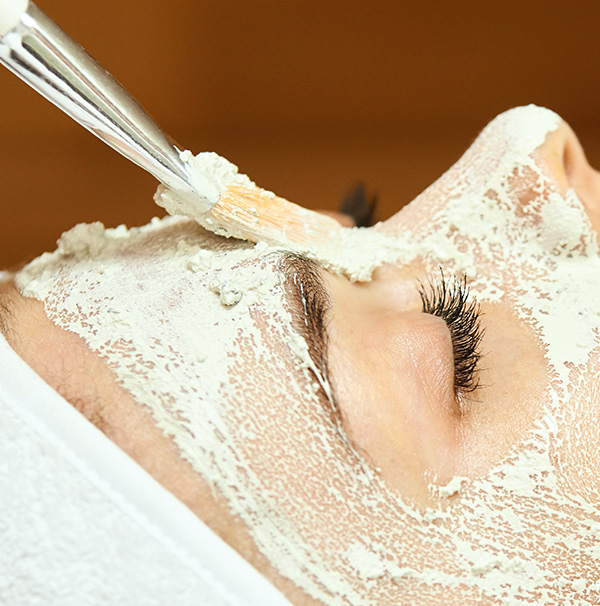 Glycolic Acid Peel
Glycolic peel is a naturally derived acid used for blemish removal, skin brightening and renewal.
Extracted from sugar cane, pineapple, sugar beets, cantaloupe and raw grapes. Glycolic is an Acid Alpha Hydroxyl Acid and acts as an excellent exfoliate that makes it an ideal treatment for fading sun spots, acne scars, blemishes, fine lines and wrinkles.
VITAMIN C GLOW
Formula to give the skin environmental protection, boost collagen and even the skin tone so the skin looks recharged, fresh and have an instant glow.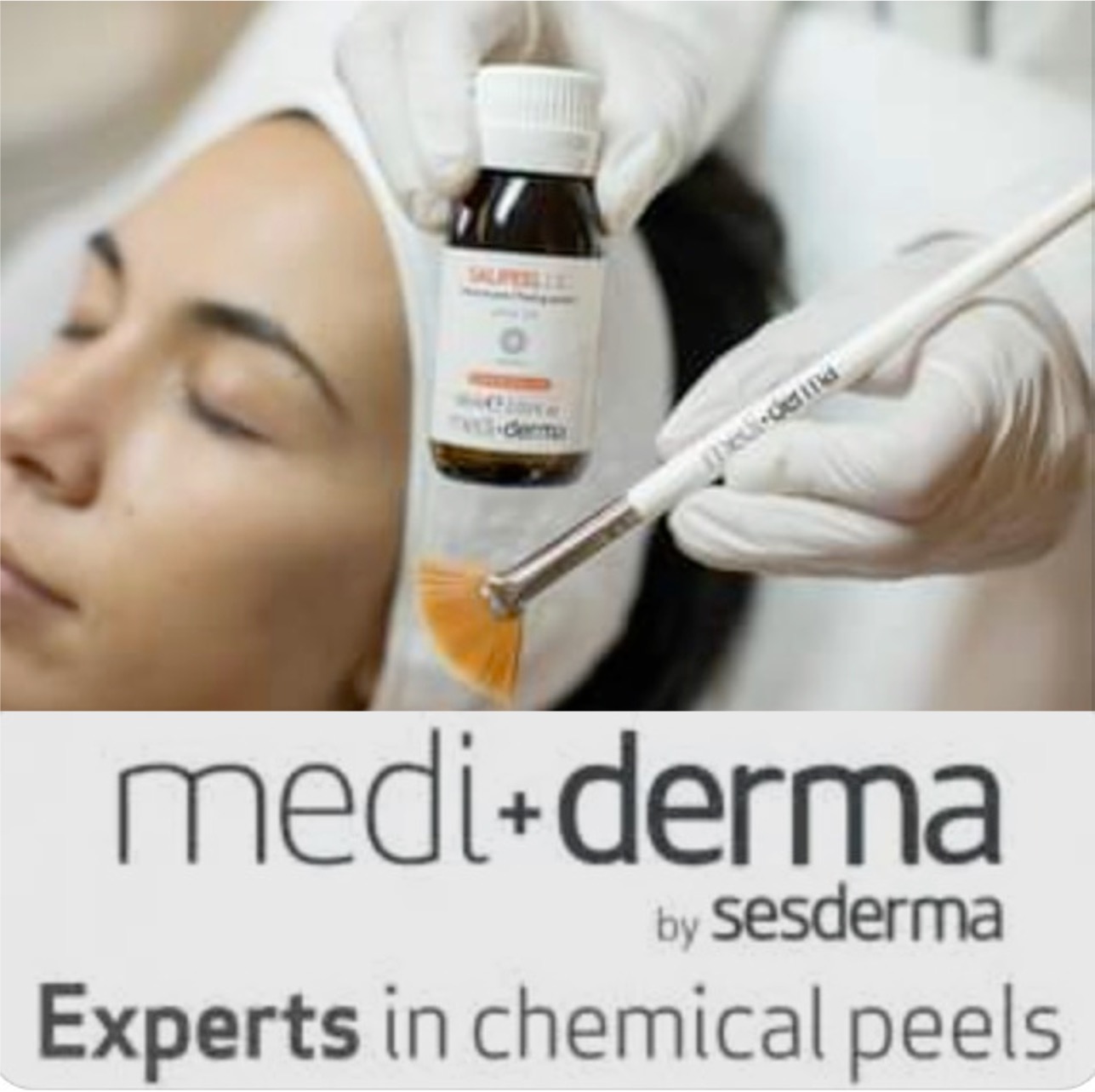 CHEMICAL PEELS – MEDIDERMA
Mediderma company was founded 25 years ago by a group of Dermatologist led by Dr. Gabriel Serrano, who also founded Sesderma Laboratories, one of the most renowned international skin care laboratories dedicated to develop high quality, effective and safe skin care products and present in more than 60 countries.
The chemical peel is a procedure which involves the application of one or more chemicals on the skin, producing an acceleration of cell turnover. The immediate effect is skin exfoliation ( more or less deep), usually visible, and a delayed effect is skin regeneration with repairing of the epidermis and dermal matrix (formation of new collagen ) which improves certain aesthetic defects such as spots, wrinkles , skin tone, color, etc. .
Advantage
can be done in any season, in any type of skin anywhere on the body (with a suitable choice of peeling) It's quick and easy In ambulatory use
immediate outcome: provides a smoother, brighter and younger looking skin.
Indications
Facial aging due to sun exposure (photoaging ) , fine wrinkles and expression lines, pigmented spots ( age spots , melisma , freckles,) , irregularities of the skin ( acne, keratosis , dry skin) , sagging skin , stretch marks, scars , open pores.
The selection of the peeling depends on the patient's skin type, but also impacts other aspects such as the preparation of the skin, sun exposure and expectations.
Melases TRX
Melases TRX is a mild medical peeling that does not irritate the skin. The main active ingredient is tranexamic acid, which has a lightening effect. It regulates the secretion of melanin in the skin, thanks to which it fights against hyperpigmentation. It also has the ability to eliminate vascular pigmentations. In addition to the ability to depigment the skin, it has the properties of strengthening blood vessels and reducing redness. Melases TRX is also supporting the therapy of rosacea.
Azelaic peel
A treatment based on the main active ingredient of azelaic acid, which has a multidirectional effect.
By regulating the secretion of sebum, it normalizes the work of the sebaceous glands and reduces the disorders that lead to the formation of acne lesions. It evens out the skin tone and controls the production of melanin thanks to the inhibition of tyrosinase.
Glowing peel
The synergistic combination of ferulic acid and vitamin C is an excellent banquet treatment. The treatment prevents photoaging of the skin, protecting it against the negative effects of UV radiation through a strong antioxidant effect. It is also a therapy to lighten pigmentations. The treatment stimulates the skin to renew and improves the firmness of the epidermis and restores radiance. The results are visible immediately after the procedure, there is no redness or hypersensitivity.