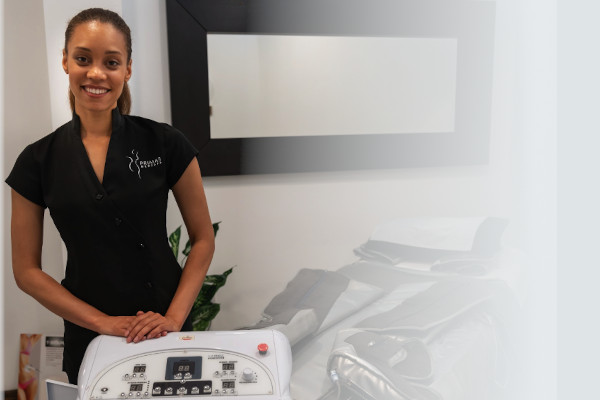 Pressotherapy
Detox your body, improve lymphatic drainage, boost circulation and tackle cellulite. Pressotherapy is something of a miracle wellness treatment and it's becoming more and more popular among busy people who need to look and feel at their best every day.
Here at Primas Medispa, we pride ourselves on delivering the most creative, scientifically proven strategies for lymphatic draining.
What is Pressotherapy lymphatic massage?
Pressotherapy is a cutting-edge technology that multiplies the results of classic manual lymphatic massages by combining it with infrared, which can be sequentially activated by conducting heat on the treated areas, simultaneously toning skin laxity, slimming the look of the arms and legs (because they carry less fluid), easing aches and pains, and detoxifying the body.
The flow of lymph fluid can become gradually more congested as toxins and proteins get trapped, (Unlike blood, the lymphatic system doesn't have an organ that pumps the lymph), When the lymphatic system is affected because of things like stress, illness and an unhealthy lifestyle. the body cannot drain this fluid causing your immune system to suffer ( infections and disease ) and your skin to lose its lustre. Rejuvenate your beauty and protect your body from the inside out here at Primas Medispa, with this non-invasive, painless detoxifying treatment.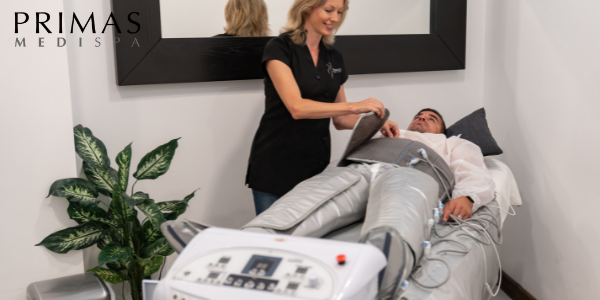 At Primas Medispa we recommend Pressotherapy as a particularly effective treatment before, during and after any healthy plan for losing weight or tackling cellulite . Pressotherapy is the best complement for liposuction as it prepares the body before surgery and helps recovery afterwards. Also, If you find your legs are swelling or you're struggling to find an effective solution to deal with bloating, Pressotherapy could be the answer.

Pressotherapy can deliver exceptional results and get you back on your feet immediately. All you need is one of our Pressotherapy suits (we know they're so flattering!) and under the careful supervision of our beauty experts, let the machine get to work.

Technique
Pressotherapy devices come with a central control unit that through mechanical stimulation of the arms, legs and abdominal area, the Pressotherapy treatment performs a real controlled compression massage that activates lymphatic drainage and combats water retention and cellulite. Thanks to this action, the body will also be able to more easily expel toxins and waste present in the body.
The machine utilises FAR infrared technology that increases the amount of blood that irrigates a skin area. The FAR infrared body wrap heating can dissolve fat and promote fat metabolism. The FAR infrared also improves blood circulation and nutrition/oxygen transportation. It is a dry sauna technique. After your treatment, the whole body will feel refreshed and energetic. The specificity of FAR infrared technology is that it doesn't heat up the surface of the body. Instead, it heats up the inner body (FAT ) that is 4 to 7 cm beneath the skin surface which is wonderful news as this is where the stubborn fat deposits and main blood vessels are located.
The goal of pressotherapy is to promote the transport of fluids within the body, normalising venous circulation and removing lymphatic stasis: thus, the obvious improvements in the circulatory system and in the drainage of liquids will counteract tired, swollen and heavy legs and will improve the skin's elasticity.