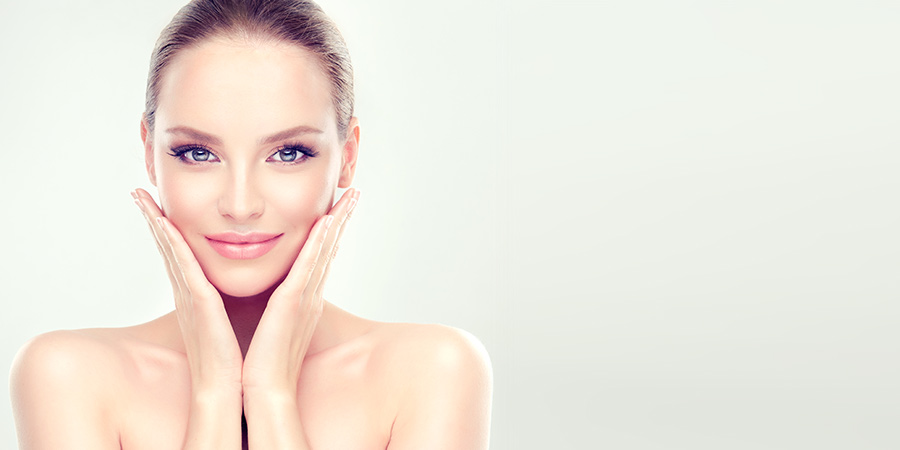 Electrical Facials
The clinicians at Primas Medispa utilise technology at the forefront of skincare science to help you achieve accelerated, longer-lasting results, leaving you looking radiant and feeling gorgeous. These are not the kind of treatments you could try in the bathroom mirror!
Benefits of Electrical Facial Treatments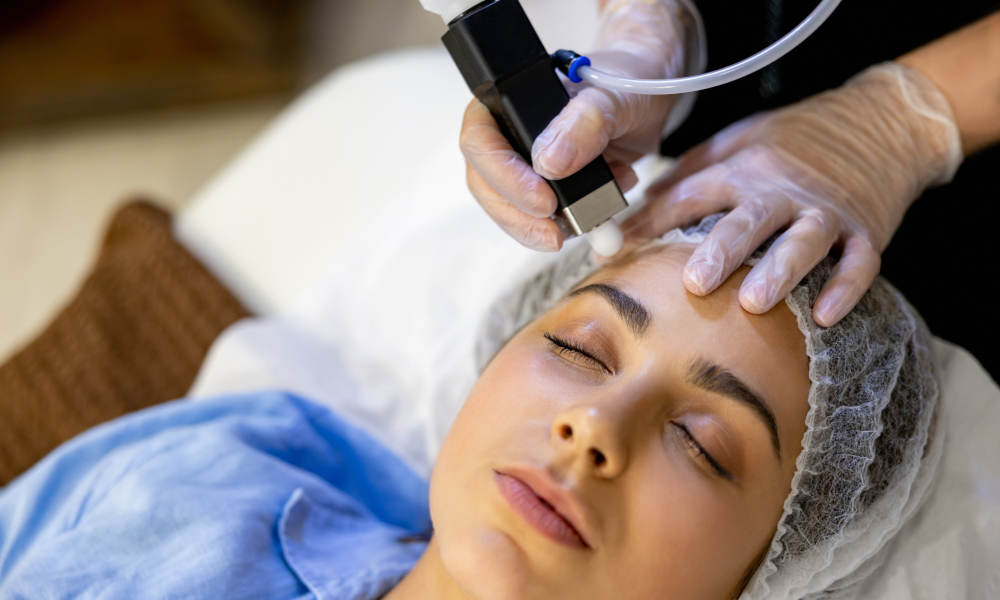 Crystal Clear Microdermabrasion for a crystal clear complexion
A firm favourite in many a celebrity circle, Crystal Clear Microdermabrasion can help you achieve a flawless complexion and a smooth, even skin tone—without having to resort to any serious cosmetic procedure.
The skin is exfoliated by being blasted with extremely hard corundum crystals—although the treatment is actually relatively painless. The velocity and strength of the crystals serve to clear dead skin cells, leaving behind a complexion that positively radiates health and vitality.
The treatment's results are instant and it can be used to address a huge variety of skin concerns, reducing the appearance of blemishes, diminishing the signs of ageing and buffing your skin to polished perfection.

Diamond microdermabrasion
Diamond microdermambrasion : The procedure involves the use of a special peeling machine with diamond tipped, The machine removes dead skin cells, sucks away dirt, debris and allowing your body to build collagen and elastin.
After this treatment, you will feel your skin cleaner, fresher and clearer complexion and is effective to target large pores.
Crystal clear microdermabrasion & spa combine
A reviving treatment which combines the benefits of microdermabrasion with our spa facial. Microdermabrasion will exfoliate the skin; promoting cellular renewal whilst the customised facial will soothe the skin. This combination works in synergy, calming your skin to prevent any redness whilst still allowing the products to deeply penetrate your pores; allowing for some stunning results.
Resurface and Heal Microdermabrasion Crystal Clear
This isn't just the average microdermabrasion.This is a high tech resurfacing treatment, The Crystal Clear Resurface and Microdermabrasion Treatment uses simultaneously blue and red phototherapy light which allows the skin to be treated at a deeper level during the microdermabrasion treatment without the long downtime.
CRYOPENTM
State of the art treatment that uses extreme cold, cryotherapy, to painlessly & safely destroy unwanted, benign and superficial lesions on the surface of the skin, such as warts, skin tags, verrucae, milia, cherry angio- mas, scars and resistant hyperpigmentation.
Radio frequency facials stimulates the production of new collagen
If you're concerned about fine lines and wrinkles and would love to firm up your facial contours, a radio frequency facial is the ideal solution. Just as microdermabrasion treatments such as Crystal Clear Microdermabrasion smooth your skin, so a radio frequency facial helps define your features.
During treatment, radio waves heat your skin to 38–40°C. This stimulates the production of collagen, a protein integral to the skin staying soft and supple. As we age, our production of collagen naturally declines, leading to skin wrinkling and becoming less taut.
By undergoing a radio frequency facial, you can undo the signs of ageing—and, although the treatment involves heating the skin, there is no discomfort. In fact, the sensation is somewhat akin to that of a hot stone face massage.

The new generation of treatment for facials, it offers a non-surgical method of 'reshaping' the face from beneath the superficial layer of the skin. This method uses a sophisticated device which employees radio frequency waves, a process which uses heat energy to remodel tissues and stimulate the production of elastin and new collagen.
It is designed specially to treat the most common skin ageing problems like wrinkles, excess fatty tissues and saggy skin.
Sylfirm Ultimate technology in Radiofrequency and Microneedling
Sylfirm is a cutting-edge technology developed in Silicon Valley, USA. It uses RP (repeated ultra-short pulses), a new advancement that reacts only to abnormal blood vessels and tissue membrane. SYLFIRM is ideal for those who have melasma, extreme blushing and rosacea, and skin dyschromia. If you've got fine lines, dull skin, big pores, acne scars or just want to look fresh and healthy, it does all of that for your skin along with solving your main skin concern.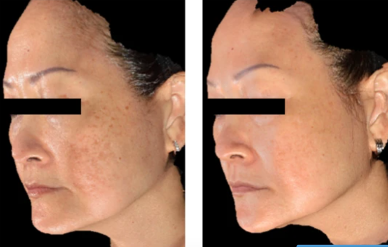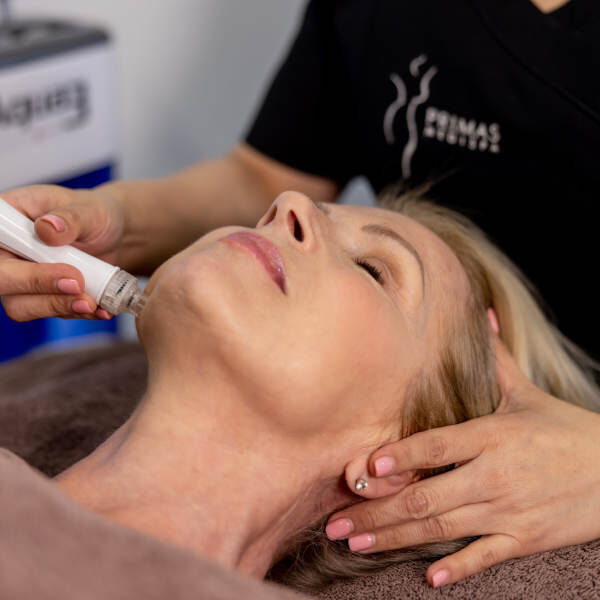 AQUA3 Hydra Facial detoxifies the skin
As we age, the stratum corneum (the outermost layer of skin) grows thicker and becomes less supple. AQUA3 is an extraordinary piece of skincare technology that peels the skin, removing impurities and leaving skin fresh, buffed and youthful.
The treatment is painless and involves the skin being blasted with a jet of water brimming in acids, which detoxify the skin and flush out blackheads, whiteheads and dead cells from even the thickest skin. The jet of water leaves your face thoroughly hydrated and oxygenated, your skin utterly revitalised and your complexion glowing like never before! 
Water peeling: very gentle, for ultra-delicate skin.
Medium peeling: using water enriched with salicylic and mandelic acid, for regular skin.
Strong peeling: with the power of powdered diamond and hyaluronic acid, for skin featuring discolouration, scars, deep wrinkles or stretch marks.

Deep cleansing
(Thanks to water peeling ) Water peeling with sequential acids, remove surface impurities even from the thickest skin, sucking out dead cells, blackheads and whiteheads thanks to the vacuum's power.
Extra efficiency (with mesoporation)
The infuser handpiece with low-molecular-weight hyaluronic acid thoroughly hydrates the skin, making it brighter and softer than ever before.
Microdermabrasion (with Diamond granules)
Normal water peeling is not sufficient to treat excessively thick skin, but AQUA3, thanks to its special handpiece with diamond granules, enables mechanical peeling on the most difficult skin, performing controlled, non-invasive microdermabrasion that can free the skin from the superficial stratum corneum, improving the appearance and texture of the skin and restoring its elasticity.
Tissue restructuring & oxygenation
Harnessing the power of the mesoporic handpiece's transdermal delivery, the skin is restructured by hyaluronic acid and Dermakléb serums.
Ultimate Trilift facial eliminates lines and renews skin tissue
The Trilift facial treatment utilises—as the name suggests—three different technologies to rejuvenate your face and get your skin looking healthy and youthful. The treatment can be entirely bespoke to your skin type and help you achieve a long-lasting reduction in the signs of ageing.

The Trilift facial begins with water peeling, in which a powerful jet exfoliates your skin and saturates your skin with revitalising acids, flushing out impurities and leaving you buffed and fresh. Next, radio frequency vibrating technology is used to target and fill wrinkles, both shallow and deep, before a plasma lift is used to generate brand-new tissue and redefine your contours, as well as plump your lips and lift your eyelids.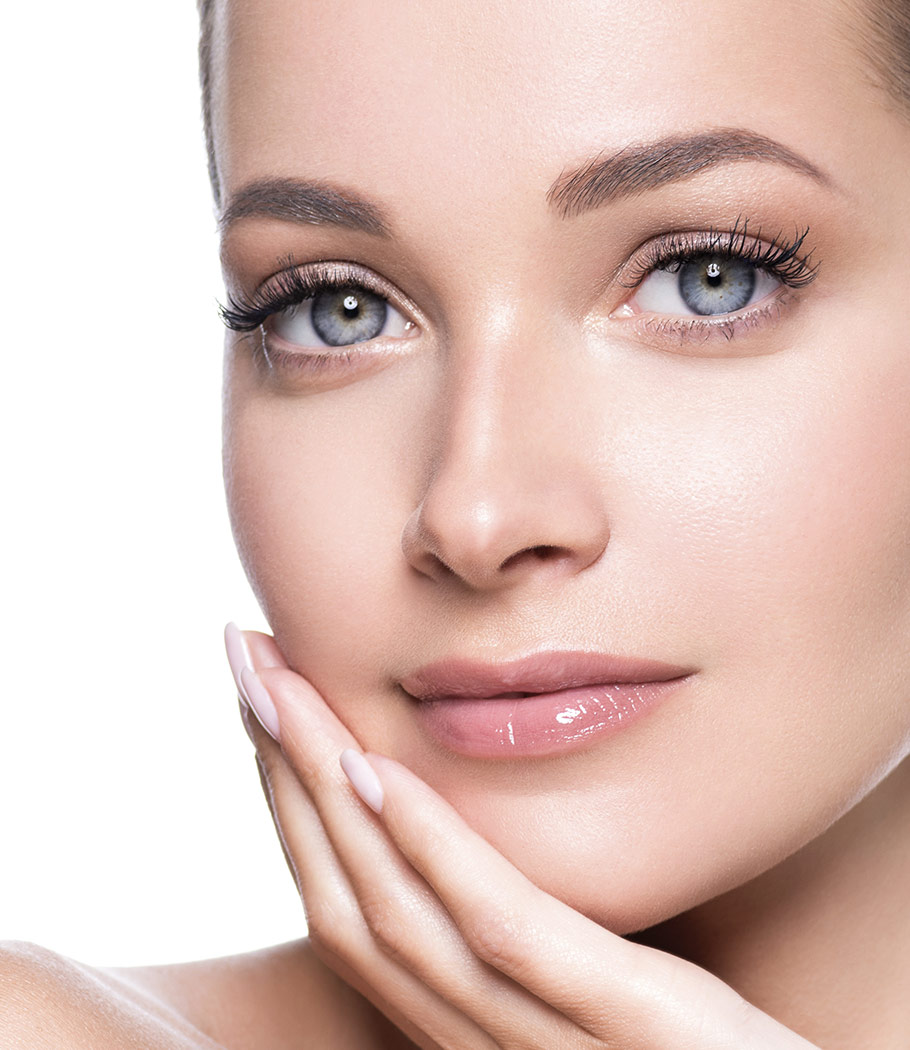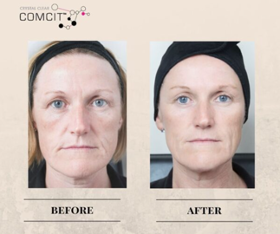 COMCIT-ELITE
Comcit goes far beyond conventional treatments : it delivers cyro oxygen, skin infusion and oxygen simultaneously to the skin through tiny microneedles , significantly reducing lines and wrinkles and rejuvenating skin texture and firmness. COMCIT treats ageing, dehydrated skin with results that are simply staggering and provides an instant, perfect dewy glow for that special occasion, wedding or red carpet event.
Plasma lift (A new energy resource to lift and regenerate facial skin)
Designed to have an immediate toning effect on skin tissue, redefining the outline of the face, lifting the oval shape and filling out areas that have taken on an empty appearance due to ageing. Also effective in terms of lifting the eyelids and plumping up the lips.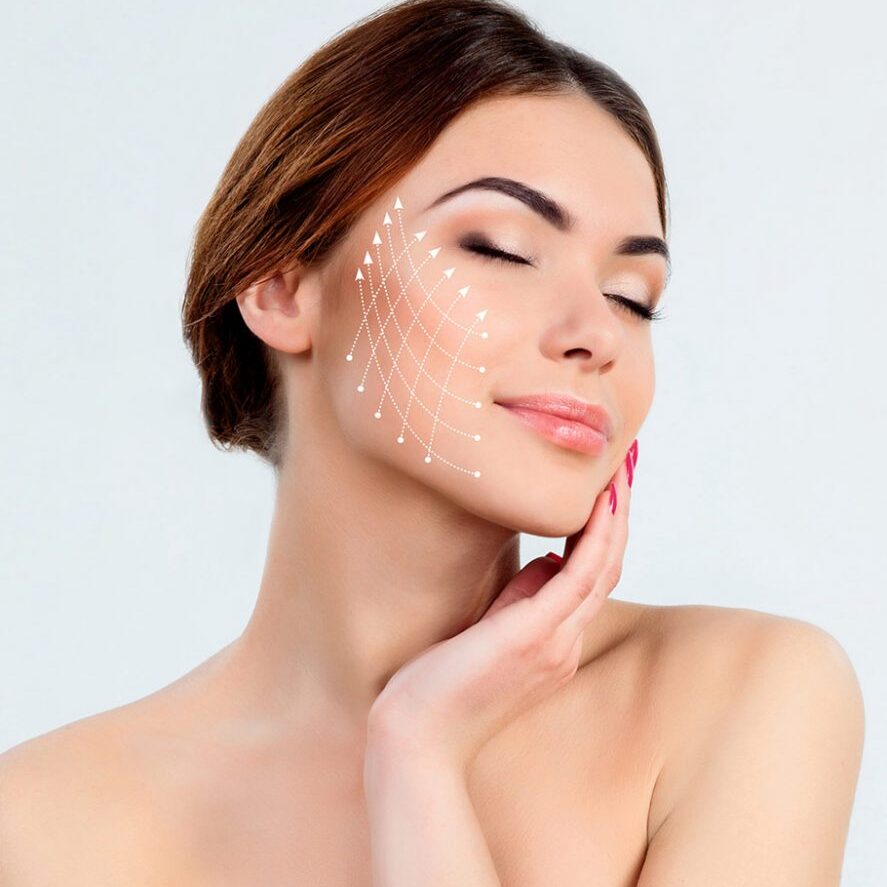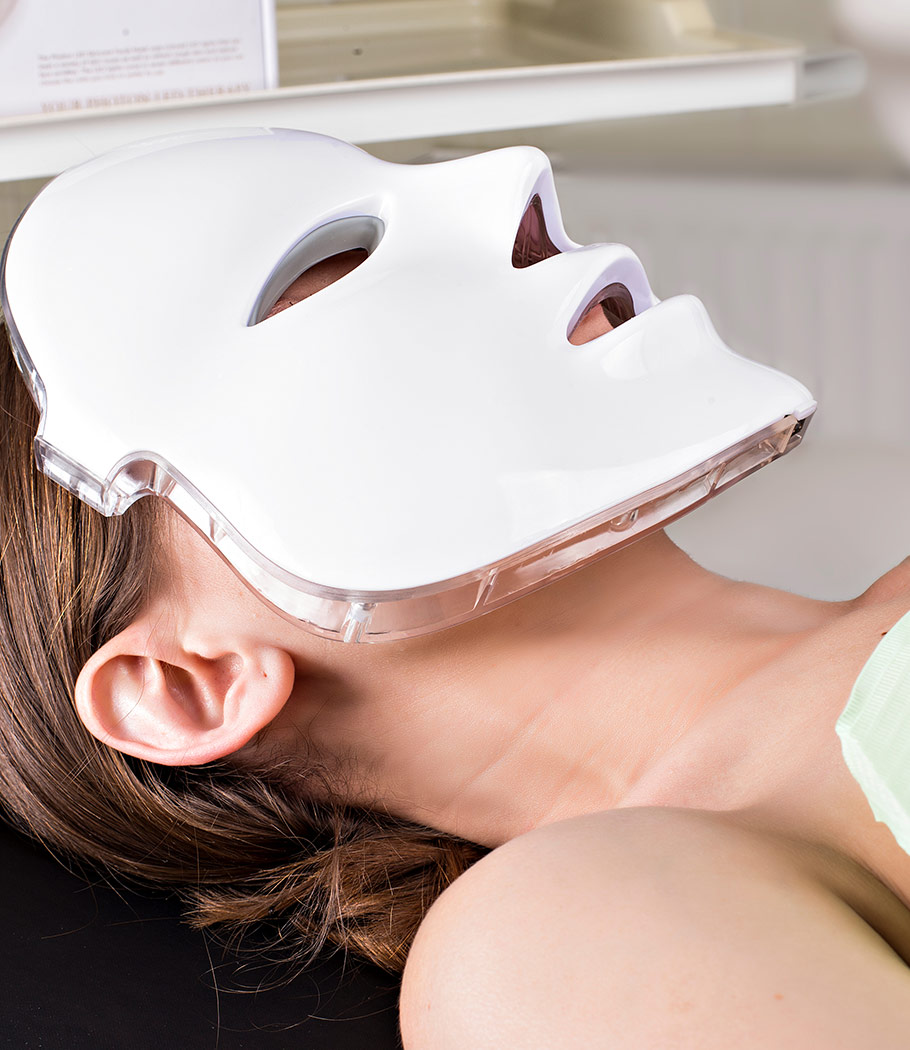 LED mask treatment - advanced skin care technology
Research is increasingly demonstrating the power of LED treatments in revitalising your skin over the long term. This revolutionary form of light therapy can treat acne, stimulate the production of elastin and collagen, regulate natural oil production, minimise redness and diminish the appearance of wrinkles.

An LED face mask emits light from both the visible and invisible spectra. As its wavelength increases, so does the depth to which it penetrates your skin. The light is absorbed by receptors and helps create a more balanced skin tone. Certain wavelengths can even reduce the appearance of hyperpigmentation.

T-CL (Thermocriolipolysis) non-surgical facelift
Is a next-generation non -invasive fat reduction and skin tightening treatment. TCL using a combination of cryotherapy (cold) and thermal therapy (heat) delivers results such as: Fat reduction, Drainage of excess fluids, Improvement of skin tone.

This leading treatment was specifically designed to tackle fat deposits that do not respond to diet and exercise.