Introducing Primas Injectables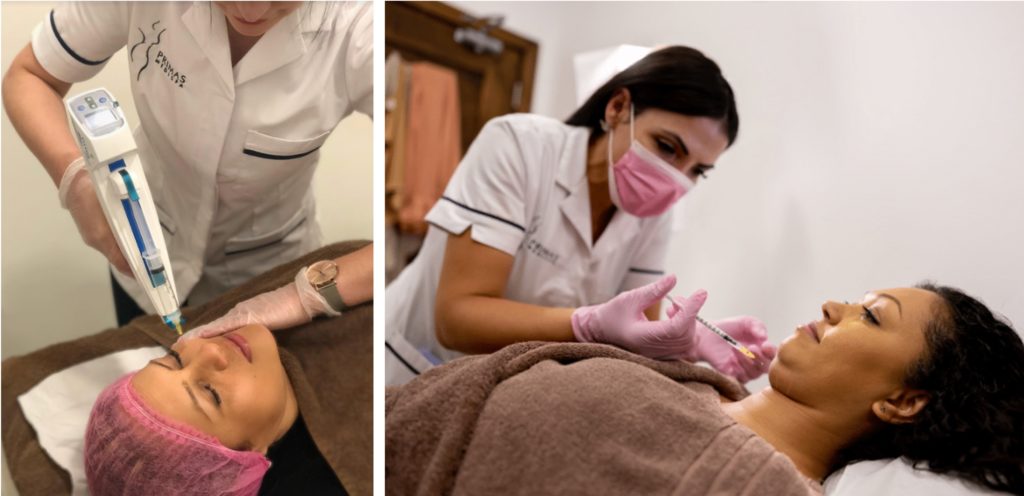 We are excited to announce that we have added a variety of injectable treatments to our services – what a way to start the year! We're always looking to the future of beauty and what more we can bring to our Central London medispa to help you feel your best. These aesthetic treatments are designed to enhance your natural beauty and leave you feeling refreshed and rejuvenated. You can book your FREE consultation with Primas Medispa to begin your year feeling exactly that!
---
MESOTHERAPY SKIN
Stimulates elastin and collagen for a youthful glow from the inside
This treatment isn't new to our list of services, but here's a quick refresh on some of the benefits! It involves injecting a cocktail of vitamins, minerals, and amino acids into the skin. This treatment can be used to improve the overall health and appearance of the skin, including reducing the appearance of fine lines and wrinkles, improving skin tone and texture, and increasing hydration levels.
---
SKIN BOOSTERS
Also known as injectable moisturisers, it improves texture, skin tone, laxity and reduces fine lines and wrinkles.
Skin boosters contain a soft, gel-like substance known as Hyaluronic Acid. This substance occurs naturally in the skin and holds high amounts
of moisture.
More radiant complexion
Reduction in visible lines and wrinkles
Softer skin with more elasticity
Better hydration, a flattering 'glow'
---
FAT-DISSOLVING INJECTIONS
(Aqualyx /Desoface / LLuvia) Dissolves stubborn fat cells in targeted areas in the face or body
Aqualyx is a treatment that uses a specially-formulated solution to dissolve and remove unwanted fat cells. This treatment can be used to reduce the appearance of cellulite, contour the body, and shape and sculpt specific areas.
Non-surgical fat reduction: Aqualyx injections are a non-surgical alternative to traditional liposuction for reducing unwanted fat in specific areas of the body.
Targeted treatment: Aqualyx injections can be used to target specific areas of the body, such as the chin, upper arms, thighs, and stomach, for precise and effective fat reduction.
---
ANTI-WRINKLE INJECTIONS
BOTOX® reduces, and prevents the appearance of wrinkles such as crows feet and frown lines
Anti-wrinkle injections are a treatment that relax the muscles that cause wrinkles, helping to reduce the appearance of wrinkles & fine lines.
Reduce frown lines and wrinkles around eyes
Reduction of perspiration in hands, feet and underarms
Smooth the skin and revitalise your face
Rejuvenate your face – without the need for surgery
---
PROFHILO
Stimulates collagen and creates a tighter youthful appearance for the face and/or body using ultra-pure hyaluronic acid
Profhilo is a revolutionary under the skin' treatment that is a new type of innovation in anti-ageing injectable procedures. The injected Hyaluronic Acid provides support from within skin's layers by stimulating our own collagen and elastin production – a winning combination!
These are just some of the injectable treatments now on offer at Primas Medispa! We invite you to come and see us at our London medispa to learn more about these treatments and how they can benefit you. Our trained and experienced staff will be happy to answer any questions you may have and recommend the best treatment plan for your individual needs and goals during your FREE consultation.