Spotlight On: Laser Hair Removal at Primas MediSpa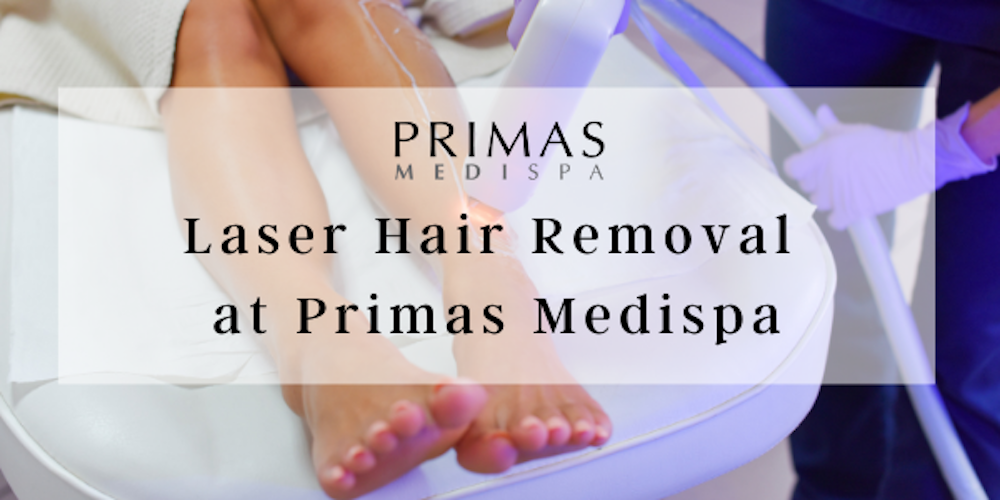 With summer on the horizon, the weather heating up and the potential that we may be able to travel a bit more soon as we ease out of lockdown (fingers crossed on that one!) there's never been a better time to book a course of Laser Hair Removal at Primas Medispa, London.
Of course, hair removal is a personal preference and whether you decide to embrace it or eradicate it, we know you'll look amazing this summer regardless. But if you're a regular with a razor or constantly booking in for waxing appointments, you'll know just how time consuming (and costly, with salon appointments every week or two) hair removal and its upkeep / maintenance can be. 
It's time to ditch the razor and talk laser! Kiss shaving rashes and ingrown hairs goodbye – with Primas Medispa's cutting-edge laser hair removal technology, it's easier than ever to remove unwanted hair for good. Read on to learn more – and to take advantage of our exclusive May special offer on laser hair removal treatments!

Laser Hair Removal at Primas Medispa London
After 12 months of lockdown, we're ready to don our favourite summer dresses and make the most of being outside with loved ones – and shaving is the last thing we want to be spending time on! Enter: laser hair removal at Primas Medispa London.
Why Choose Primas Medispa For Your Hair Removal Treatments?
Unlike other clinics, Primas offer each & every one of our clients the very latest laser hair removal technology on the market as standard. Our cutting-edge MedioStar NeXT PRO XL technology is the fastest laser hair removal technology on the market – something you won't find in many other clinics, and the absolute gold standard in achieving the best results.
It's pain-free and fast acting, with treatments taking just under an hour per session – making laser hair removal quicker and much more comfortable than salon waxing. And did we mention results are permanent? More on this shortly.
Primas Medispa's MedioStar NeXT PRO XL laser hair removal technology generates 2,400 watts of power, to provide better, faster, and more comprehensive treatment than ever before. Not only this, but unlike other, more dated laser hair removal options (which you may find in other clinics) MedioStar NeXT PRO XL works on any type of skin and at any time of the year. Whereas older, inferior technology is often unable to treat darker skin types; our technology works all the time, all year round, on every body. Inclusivity is important to us – in everything we do at Primas.

Why Choose Laser Hair Removal?
It totally eradicates issues such as shaving rash and ingrown hairs – and can actually improve the quality of your skin.

No need to shave – ever again! Which saves so much time – be this not having to shave your legs daily with a razor, or spend hours at the beauty salon each month getting waxed. And your laser hair removal appointments themselves will be much quicker than your waxing ones too…

not to mention much less painful!

Long term, not only does choosing laser save

so much time

, but it's also a better long-term investment financially. 

It's permanent. One major benefit of laser hair removal is that once you've done the full course of treatments,

you'll never need to worry about hair removal again

. No more shaving, waxing or fiddling with that painful epilator. Just beautifully smooth, hair-free skin.

It's not painful

. At all

. It's time to kiss skin irritation, painful plucking / waxing / epilating and razor burn goodbye! Unlike older, inferior technology; our MedioStar laser hair removal device has an incorporated skin cooling system. This prevents the outer layer of skin being affected by the laser, making your treatments with us more comfortable than ever!

This month, we're offering our patients an exclusive offer on laser hair removal treatments at Primas Medispa.
The deal: Enjoy 1 session of underarm or bikini line laser hair removal – 82% off for £15 instead of £90 (saving £75!)
BONUS: Buy this offer and immediately qualify for a 40% off reduction on all full treatment packages.
To purchase: Click here

Book A Consultation Now
Now's the perfect time to book your course of laser hair removal at Primas Medispa; so that results can be seen in time for summer… and enjoyed for the rest of your life! We offer laser hair removal for everything and everyone – from small areas (such as in between the eyebrows, ears and noses) to bigger areas such as chins, necks, arms, underarms, backs, abdomens, buttocks, bikini lines, brazilians, hollywoods, legs and feet.
Consultations are free, and during your consultation we can answer any other questions you may have for us. 
Click here to book now – it's 2021. Time to ditch the razor and embrace laser… we've wasted enough time in lockdown, the last thing we want to be doing is wasting more of it on painful wax appointments and having to constantly shave at home!