Put A Spring In Your Step With Primas Medispa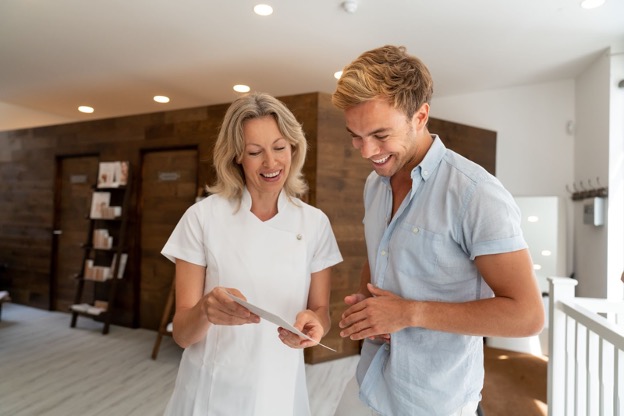 Spring is finally here, and with it comes a new season of hope, growth, and renewal. After a long winter, it's time to refresh your look and feel your best. At Primas Medispa, we offer a range of treatments that are perfect for getting you ready for the warmer months ahead. From laser hair removal to lip fillers, pressotherapy, and hydrafacials, we have everything you need to feel and look your best this spring. A question we are being asked frequently at the moment is… What are the best treatments for spring? We've put together a list of some of our favourite spring treatments to help you choose!
Laser Hair Removal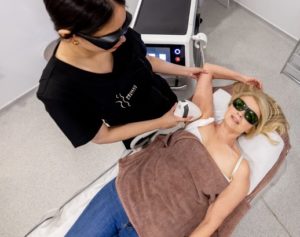 Laser hair removal is one of the most popular treatments we offer at Primas Medispa, and for good reason. It's a quick, painless, and effective way to remove unwanted hair from your body. Spring is the perfect time to start laser hair removal treatments, as it takes a few sessions to achieve the desired results. If you're considering laser hair removal, here are a few things to keep in mind:
Avoid sun exposure for at least two weeks before your treatment.
Shave the area to be treated 24 hours before your appointment.
Don't apply any lotions, creams, or makeup to the area on the day of your appointment.
Anti-Wrinkle Injections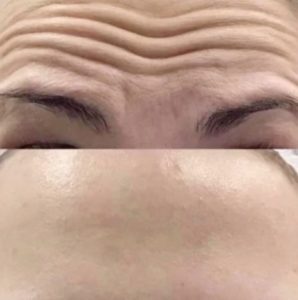 Spring is a time of renewal and rejuvenation, and what better way to refresh your appearance than with anti-wrinkle injections at Primas Medispa? This popular treatment is a simple and effective way to smooth out fine lines and wrinkles, leaving you looking fresher, more awake, and more youthful. Not only do anti-wrinkle injections provide immediate results, but they can also help prevent future wrinkles from forming. Here are just a few of the benefits of this treatment:
Smooths out fine lines and wrinkles
Restores a more youthful appearance
Helps prevent future wrinkles from forming
Little to no downtime or recovery needed
Results can last for several months
At Primas Medispa, our experienced professionals can help you achieve the natural-looking results you desire with anti-wrinkle injections. Contact us today to schedule a consultation and discover how this treatment can help you look and feel your best this spring.
Pressotherapy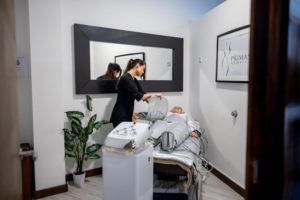 Pressotherapy is a treatment that uses air pressure to improve circulation and lymphatic drainage. It's a great way to get rid of bloating and improve the appearance of cellulite, which can be a concern during the warmer months. Here are a few reasons why we recommend pressotherapy as a pre-spring treatment:
It can help you feel lighter and more energized.
It can improve the appearance of your legs and reduce the appearance of cellulite.
It's a great way to prepare for a summer
Aqua3 Hydrafacials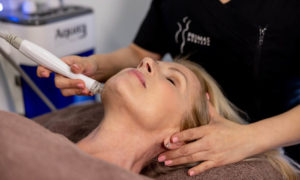 Hydrafacials are a fantastic facial treatment to get ahead of spring for several reasons. They are designed to deeply cleanse and exfoliate the skin, helping to remove dead skin cells and unclog pores. This can be particularly beneficial after the winter months, when the skin may be dry and dull from the cold weather. This type of facial uses a specialised serum to hydrate and nourish the skin, which can help to restore a healthy, radiant glow. This can be particularly useful ahead of spring, when you may want your skin to look its best for upcoming events and outdoor activities.
Dealing With Bacne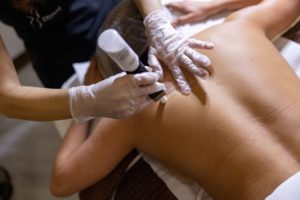 Spring is the perfect time to focus on achieving clear, smooth skin all over your body, and that includes your back. If you suffer from bacne, or acne on your back, Primas Medispa has a range of effective treatments to help you achieve the clear skin you desire. Our laser treatments, microdermabrasion and microneedling services like mesotherapy are safe, non-invasive options that can help reduce the appearance of acne, scarring, and other skin imperfections.
With little to no downtime, you can achieve noticeable results in just a few treatments. Don't let bacne hold you back this spring – schedule a consultation with our skincare experts today to find out which treatment option is right for you.
Have any of these treatments tickled your fancy? This is just a selection of our spring treatments at Primas Medispa and our expert team is here to help you decide which will work best for you and what you want to achieve. Enjoy the benefits of our popular treatments and prepare for the warmer months ahead with confidence. Contact us today to learn more and schedule your springtime treatment.