How Well Do You Know Your Skin? VISIA Skin Analysis At Primas MediSpa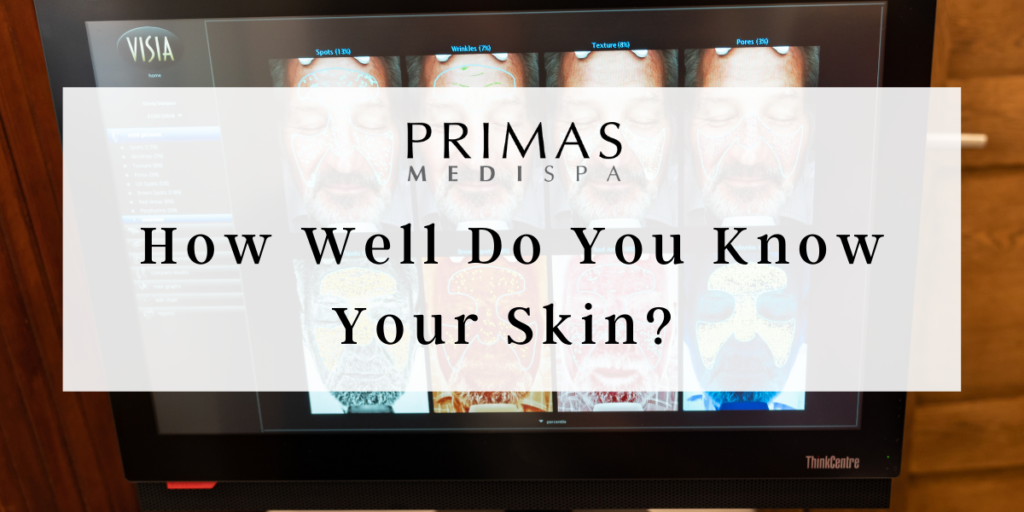 How well do you really know your skin? 
It's time to get to know your complexion on a deeper level, with VISIA Skin Analysis and bespoke skincare advice at Primas MediSpa. 
Lockdown has meant that we've all spent a lot more time at home, learning more about our skin and investing in at-home skincare products to tide us over until clinics were able to reopen. And now that they have – and with summer on the horizon (meaning we need to refresh our skincare regimes ready for the change in weather conditions) there's never been a better time to get booked back in at Primas MediSpa.
Having a skincare regime is all well and good… but only if you're using the correct ingredients to address your skin concerns, choosing the most suitable formulas for your skin type and only once you've got a proper understanding of what's really going on under the surface. 
Primas MediSpa's cutting edge VISIA Skin Analysis technology scans your skin to give you all the answers you need, in just minutes. It's time to see your skin in HD… like you've never seen it before! Read on for further skinformation!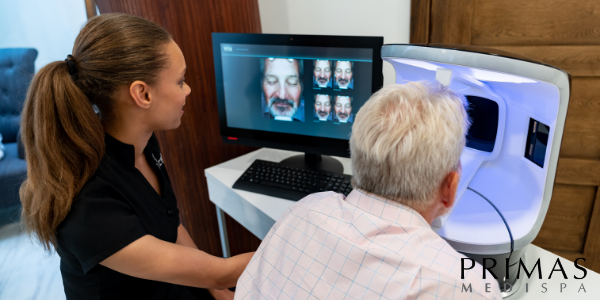 VISIA Skin Analysis At Primas MediSpa
Knowledge is power – especially when it comes to skincare and treating common skin complaints. To ensure that our team of experts can prescribe you the most effective skincare routine and products possible, we like to go the extra step for our patients; using  cutting-edge skin scanning technology. 
Primas MediSpa's one-of-a-kind consultations using our VISIA Skin Analysis system allow us to see your skin in more detail than ever before – so no matter whether you're concerned about breakouts, ageing, hyperpigmentation or loss of skin firmness; we can establish exactly what's going on under the surface, to devise you the ultimate skincare routine!
During your consultation, the machine's UV light scans the skin; capturing incredibly in-depth information on your pores, texture, wrinkles, spots, pigmentation and level of porphyrins (compounds that increase your sensitivity to sunlight.) By creating a comprehensive database of your skin's health, condition and history, VISIA Skin Analysis enables our clinicians to then produce a bespoke skincare regimen for you – complete with a timeline of treatments based around your precise needs and skincare goals.
Your Primas MediSpa skin expert will spend time with you during your appointment examining not only your skin type, but any conditions you may have too – whether you knew about them prior to your VISIA Skin Analysis or not! All these factors are then taken into account so your clinician can recommend treatments, products and techniques best suited to your complexion.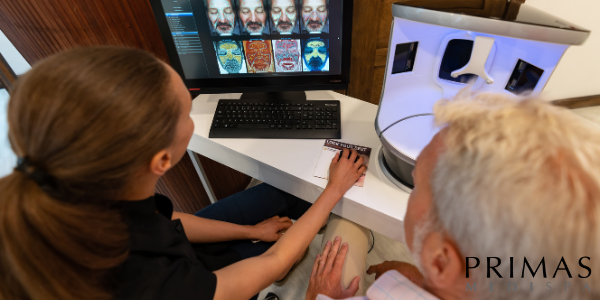 The Stages Of The Skin Scan Analysis
During your VISIA Skin Analysis, your clinician will talk you through the results of the scan and your visual assessment. This is where things get really interesting!
Skin Condition

  – Determines your overall skin condition and age, providing  revolutionary new metrics to help guide your clinician when it comes to the best skincare products and treatments for

you

.

Advanced Ageing Simulation

– Simulates how your skin may appear from ages 18-80 years old.

RBS Technology

  – Updated RBX® technology shows us a detailed image of sub-surface melanin and vascular conditions – for all skin types and ethnicities.

Percentile Scores

– The results are in! VISIA's 'comparison to norms' analysis grades your skin relative to others of the same age & skin type as you… measuring spots, wrinkles, UV spots, wrinkles, porphyrins, texture, pores and more!

Meaningful Comparisons

– These results can then be viewed side by side to better understand your results and compare from any view

Eyelash Analysis

–

How interesting is this

? We can use VISIA's technology to recommend lash improvement treatments

Ageing Simulation – Ever wondered what you'll look like in 5 years? This stage of the analysis allows us to simulate your individual ageing process to show you what you'll look like older (or younger) by 5-7 years – in terms of spots, wrinkles or both! If there's one part of this scan that'll make you take SPF more seriously, it's this one!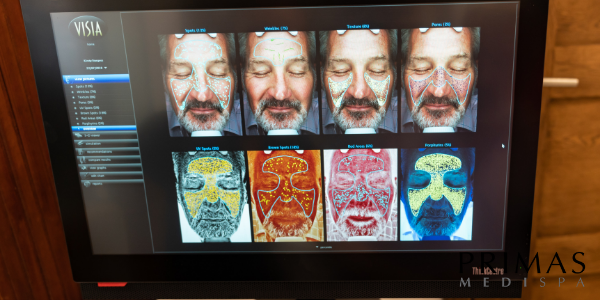 Expert Skincare Advice & Bespoke Treatment Plans At Primas MediSpa
No matter what the results of your VISIA Skin Analysis, our team of expert clinicians can work with you to create a bespoke treatment plan of at-home skincare products and in-clinic treatment recommendations. The beauty of using this industry-first skin scanning technology is that it's driven by science and statistics – meaning we can achieve better, more accurate and targeted results than ever before by utilising the data captured.
Don't blindly waste your money on skincare products that might not be right for you. Booking an appointment with Primas MediSpa's clinicians means you're taking the first step in getting to know your skin – empowering you to protect and treat it; with our support and from home. 
Click here to book your next appointment and take back control over your complexion!