Supercharge Your Summer Body With PRIMA Tone Up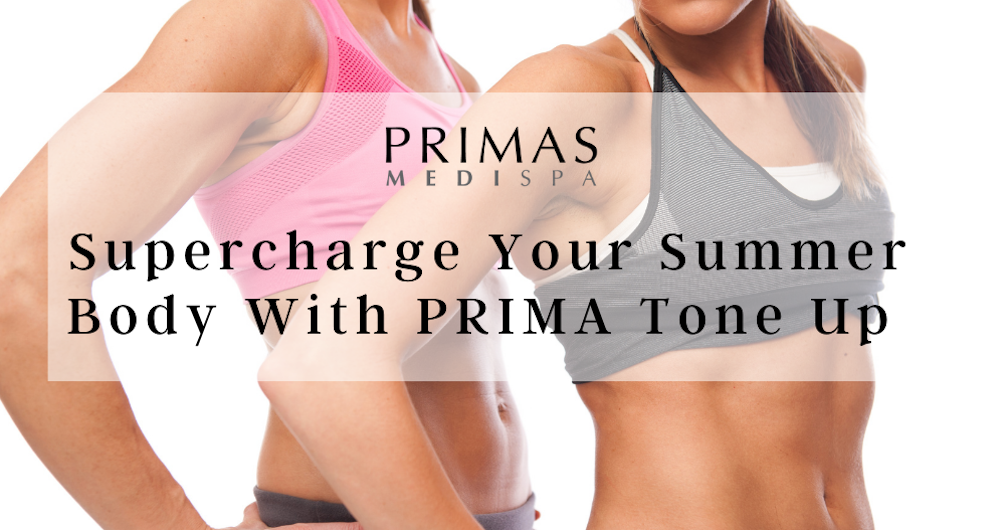 Summer 2021 is finally here – the sun's shining, we're currently enjoying a gorgeous heatwave (don't forget your SPF!) and lockdown restrictions are easing. And if you've booked a holiday (whether you're venturing abroad or enjoying a staycation this year), you might find yourself wanting to supercharge your summer body; maximising your trips to the gym for the best possible, fastest results.
If (like us) you've left lockdown a little heavier than you entered it – or gotten a little out of shape with the gyms having been closed for so long, we can help.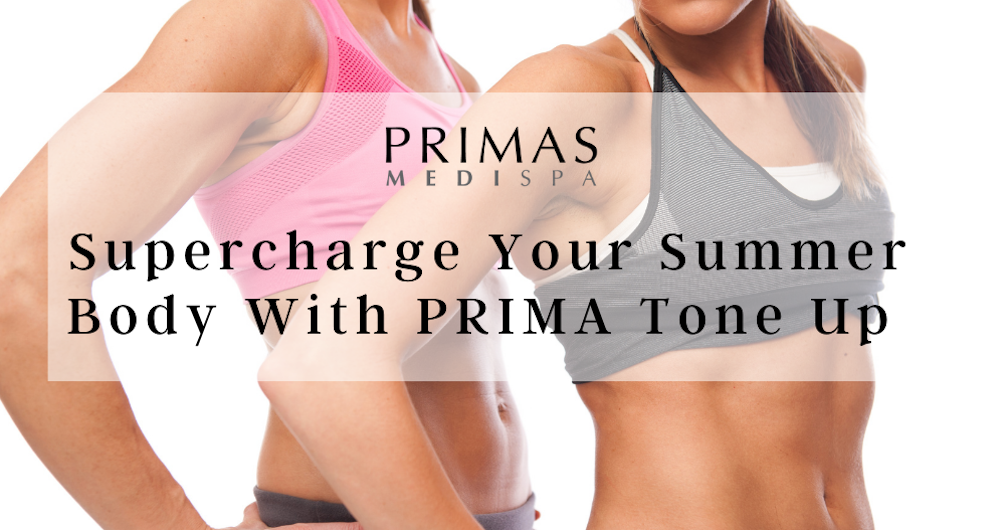 As you'll know, Primas Medispa London offers a range of fat reducing / freezing treatments… but for those of you wanting to target muscle, did you know we also offer EMS treatments using cutting-edge Accent Prime devices? EMS (or Electromagnetic Stimulation) technology works by stimulating your muscles, exercising them to encourage them to tone up. HI-EMT (High-Intensity Focused Electro-Magnetic Technology) delivered into the treatment area works to continuously & rapidly expand and contract your muscles; equivalent to a session of extreme training in the gym. Whilst you simply sit back and relax! This intense muscle stimulation works and reshapes the internal structure of your muscles – in turn strengthening and increasing them, whilst reducing fat.
Top tip: for even more impressive results, why not combine a course of PRIMA Tone Up body toning treatments with body contouring at Primas Medispa, with treatments such as Cryo Fat Freezing, TShape or Alma Accent Prime treatments? With EMS targeting your muscles for a stronger, defined core; body contouring and fat freezing treatments are the perfect pairing – shifting stubborn pockets of fat to further sculpt your physique.
Let's talk more about EMS
With zero downtime and taking just 30 minutes a session, EMS is the perfect treatment to squeeze in after a gym session – or on your lunch break from work!
As well as helping supercharge and sculpt your workout results / summer body by building muscle mass & strength, PRIMA Tone Up treatments at Primas Medispa can also be used for feminine wellness reasons – such as improving the pelvic floor muscles (often loosened post-childbirth) to reduce incontinence and urine infiltration, tightening the abdominal muscles.
Other Benefits of EMS treatments at Primas:
Builds, boosts and maintains body health, strengthening and supercharging muscle growth.
Our 'Muscle Strength Training Mode' achieves similar results to weight training… without lifting a finger!
Studies show that after just one course of treatment, EMS can effectively increase your muscles by up to 16%… reducing up to 19% fat at the same time.
EMS keeps your muscles and body strong; preventing weakness, maintaining physical youthfulness and side-stepping signs of ageing. It can reduce high blood pressure, promote better blood circulation, enhance memory, reduce chronic pain in muscles / joints and prevent the onset of dementia.
Strengthening your core muscles (via exercise and EMS) can protect and strengthen your spine, correct your posture and provide structural support to the body.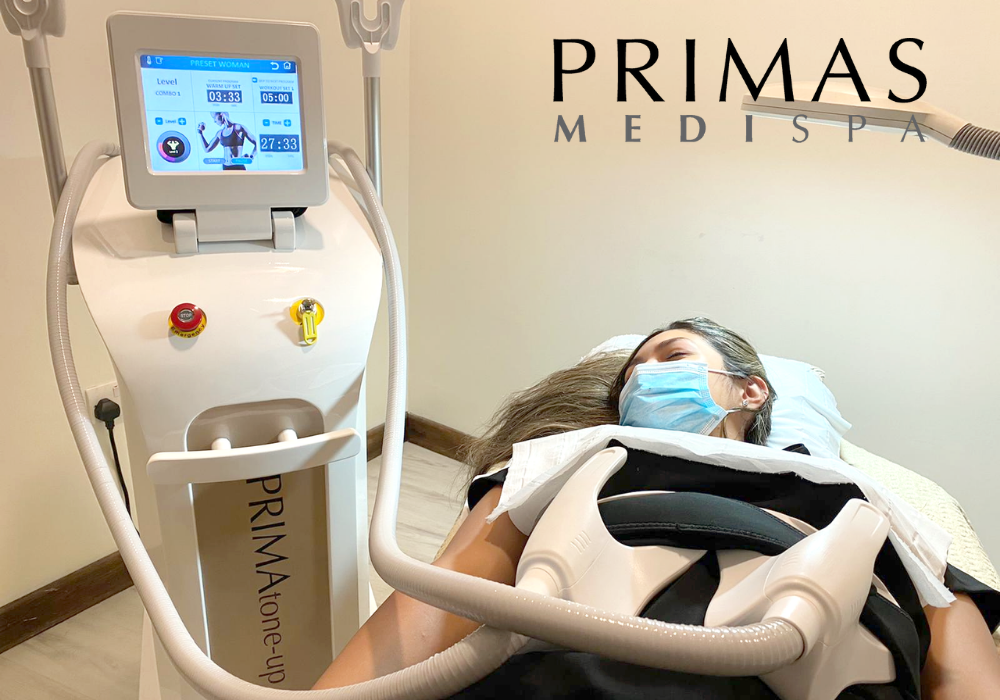 Adding muscle mass (and supercharging it with our industry-leading Accent Prime technology) helps your body burn more calories at rest – and when combining this with a healthy lifestyle, exercise and balanced diet, this will increase your metabolism and help you burn off excess body fat at a much faster rate.
The treatment can be used to sculpt, streamline and strengthen muscles in the:
Abdomen
Glutes
Thighs
Calves
Arms
Hamstrings & more.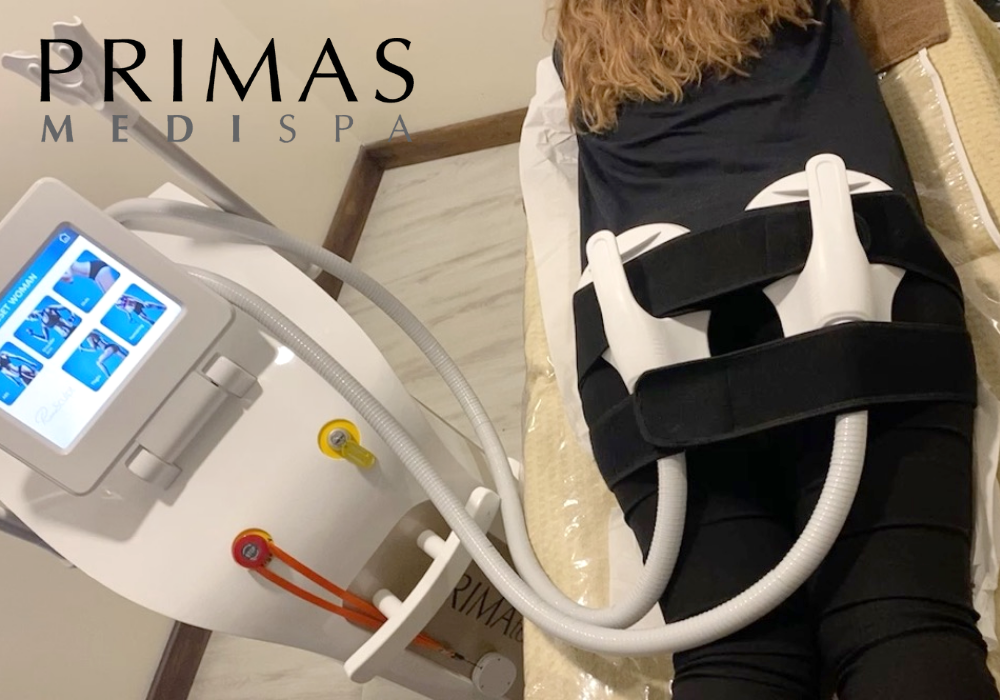 As mentioned previously, there's zero downtime associated with EMS treatments at Primas Medispa. The treatment itself is totally pain-free, and non-invasive – using panel applicators to deliver HI-EMT to your desired area. Simply lie back and let our cutting-edge devices do the hard work for you!
For best results, we'd recommend booking a course of treatments – with results typically showing 2-4 weeks after the course of treatments. And as touched upon above – to really optimise your body transformation (alongside a healthy lifestyle), booking a fat freezing treatment alongside your EMS course is a fantastic idea! For more information and to devise a treatment plan that works for your individual fitness and body goals, click here to contact our professional team.
Have you tried PRIMA Tone Up treatments at Primas before? Do you have any other questions for us?