Why Now's The Best Time To Start Laser Treatments…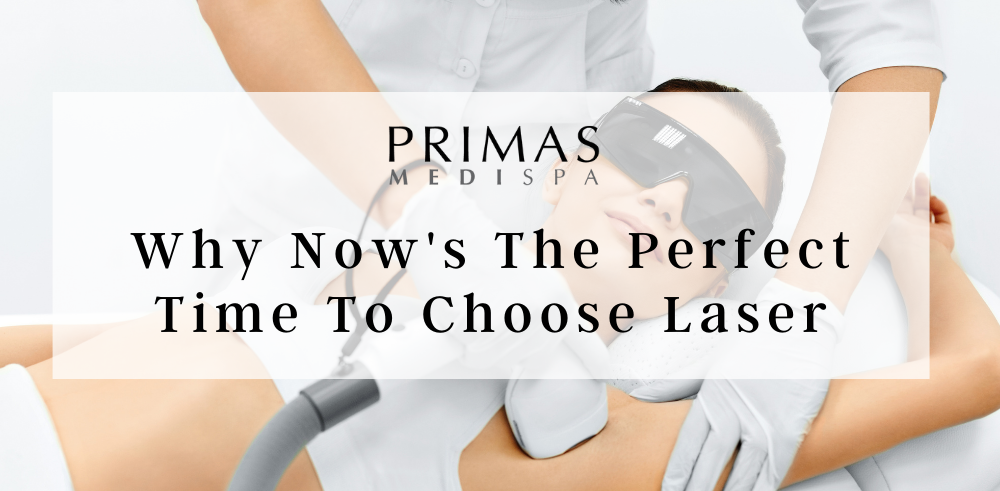 As summer 2021 draws to an end, we're looking forward to transitioning our parched, sun-damaged skin into the new season. 
It's almost time for sweater weather – where we'll be swapping summer dresses for winter warmers; and flip flops for wellies. And although we might not be getting our legs out as the temperatures drop, now's actually the best time of the year to start looking into laser hair removal at Primas Medispa. Or any form of laser treatment really – from hair removal to complexion correcting laser facials; now's the ideal time to book a course of treatments.
Why? Read on to find out more.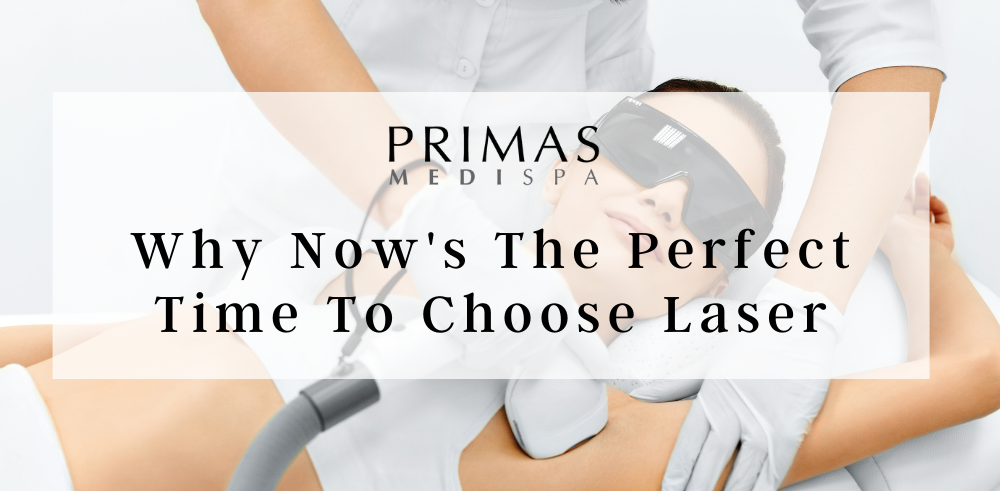 So, Why
Is
Now The Perfect Time?
There are two main reasons we recommend starting a course of laser treatments once the weather starts to cool.
Although we're only just leaving the sunny, summer weather behind us, now's the time to start planning for your next. Booked a big holiday in 2022? Planning on making the most of the hot weather next year, after COVID restrictions have cramped our style for part of 2021? Now's the time to start zapping unwanted hair for smooth skin in time for your big plans, as laser hair removal & other similar treatments usually take around 8 sessions… meaning you'll see best results and be hair-free in time for SS22!

Some treatments (e.g. those to banish hyperpigmentation and sun spots) are best to have during the colder months, as laser skin resurfacing and IPL procedures may require you to avoid direct sunlight pre and post-procedure (or risk the skin damage recurring.) And we all know there's little chance of direct sunlight during British wintertime!
Plus, we're currently offering some amazing special offers on laser hair removal… with 85% off laser hair removal on the bikini line or underarms… click here to redeem this exclusive discount (but be quick, ends soon!)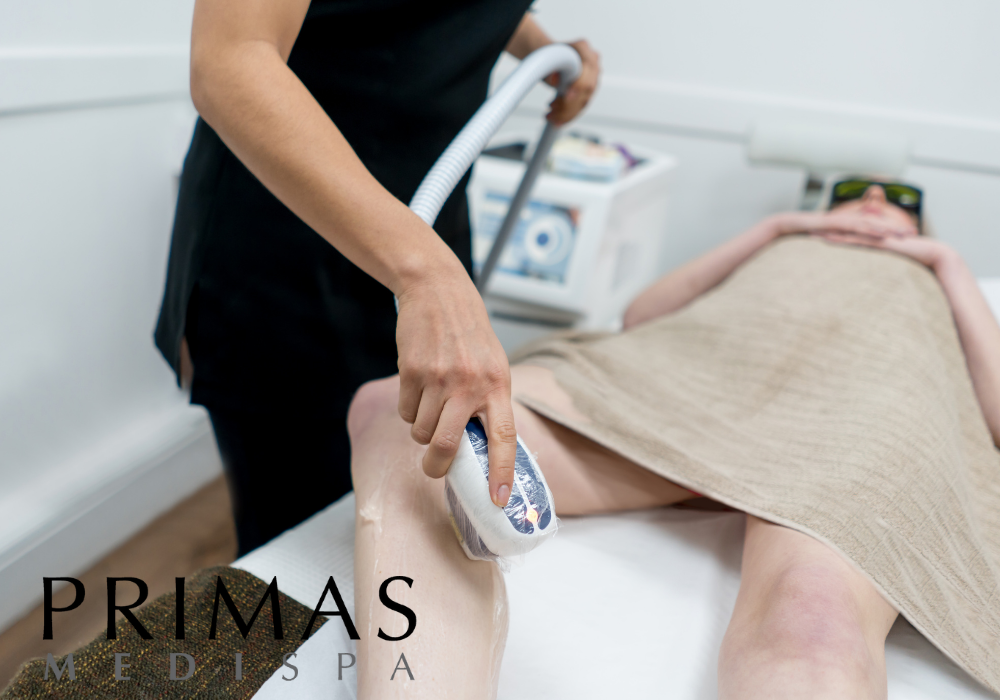 Why Choose Laser?
We love laser treatments here at Primas Medispa. They're effective, non-invasive, quick and relatively pain-free procedures – helping us in everything from hair removal to skin rejuvenation, and from weight-loss to spider vein removal. We use only the most cutting-edge laser treatments as standard with all our patients, ensuring you get the best results (and value for money) possible.
What Laser Treatments Do We Offer?
The A-Z of laser treatments at Primas Medispa:
Laser Hair Removal

– it's time to break up with those costly, time-consuming and painful waxing appointments and to ditch your razor; in favour of laser. Primas Medispa are proud to use industry-leading MedioStar NeXT PRO XL technology with all our patients – which is the fastest, most pain-free laser hair removal device on the market. It's suitable for all skin types, genders and on most areas of the body.
Laser Skin Rejuvenation & Hyperpigmentation

– If you suffer with sun spots, hyperpigmentation, dark patches and / or an uneven skin tone, MeDioStar NeXT PRO laser skin rejuvenation treatments at Primas Medispa London should be on your radar. Using innovative, cutting-edge technology, these treatments carefully & painlessly resurface & refresh the upper layers of your skin; zapping away all surface level imperfections for a rejuvenated, healthy glow.

Laser Thread Vein Treatments

– it's now easier than ever to zap away unsightly veins, thanks to laser thread vein removal treatments at Primas. It's quick, easy and extremely effective; helping patients regain confidence by permanently eradicating unwanted thread veins (also sometimes known as spider veins) on the face, legs & other areas of the body.

U Curve Lipo Laser

– one of the most advanced technologies on the market, laser liposuction works to melt fat cells and tighten loose, sagging skin. It's a safe, non-surgical alternative to going under the knife… with no needles, no injections and no pain involved. It can also be used to improve the appearance of cellulite, ready for swimsuit confidence in SS22!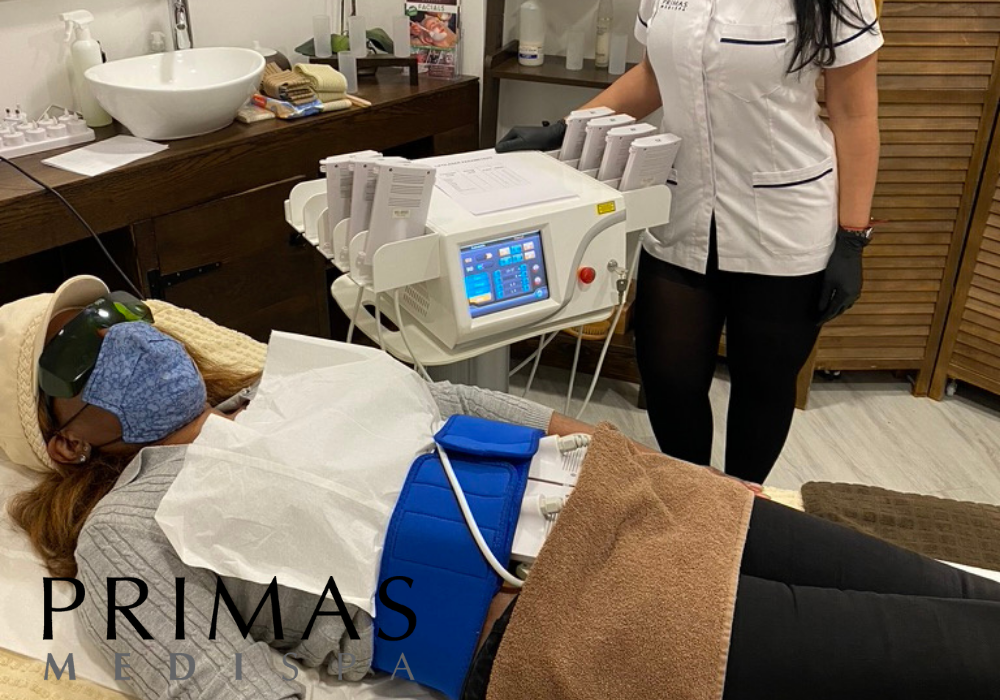 Want to talk to us about any of the treatments above, or perhaps an alternative solution in helping you achieve skin and / or body confidence? Head to our website, email us or give the team a call on 0207 213 9550. 
Have you tried any laser treatments before?