#MensHealthWeek2021: Men's Treatments & Special Offers At Primas Medispa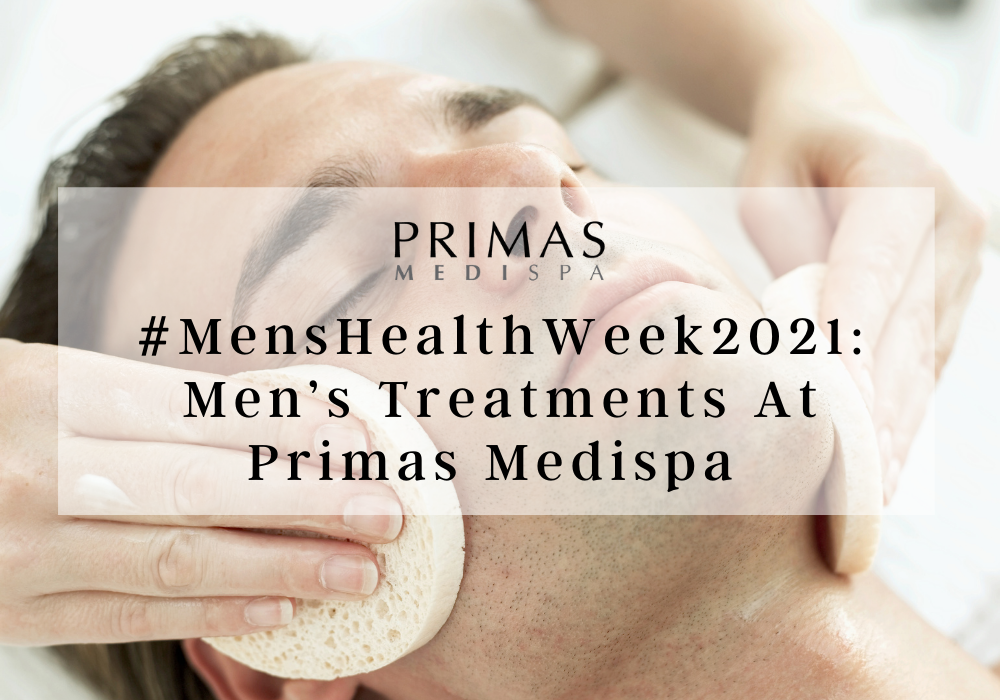 The 15th-20th June 2021 is Men's Health Week – and with Father's Day on the 20th too, we're currently planning in all the ways we can celebrate, recognise and pamper the men in our lives! 
There's a common misconception that aesthetic, skin and other in-clinic treatments are mostly enjoyed by women – but that isn't the case at all! Men do (and should!) take care of their skin, bodies and health… and everyone (regardless of what gender you identify as) is welcome to do so at Primas Medispa.
Join us in celebrating the men in our lives this June, with exclusive special offers available all month… meaning Father's Day = sorted. We're currently offering an incredible up to 50% off popular men's treatments at Primas Medispa… the perfect gift for him this year! Click here to take advantage of these exclusive savings.
Read on to find out which treatments are most popular with our male clients – and if you're feeling inspired, click here to book an appointment (for you or a loved one.)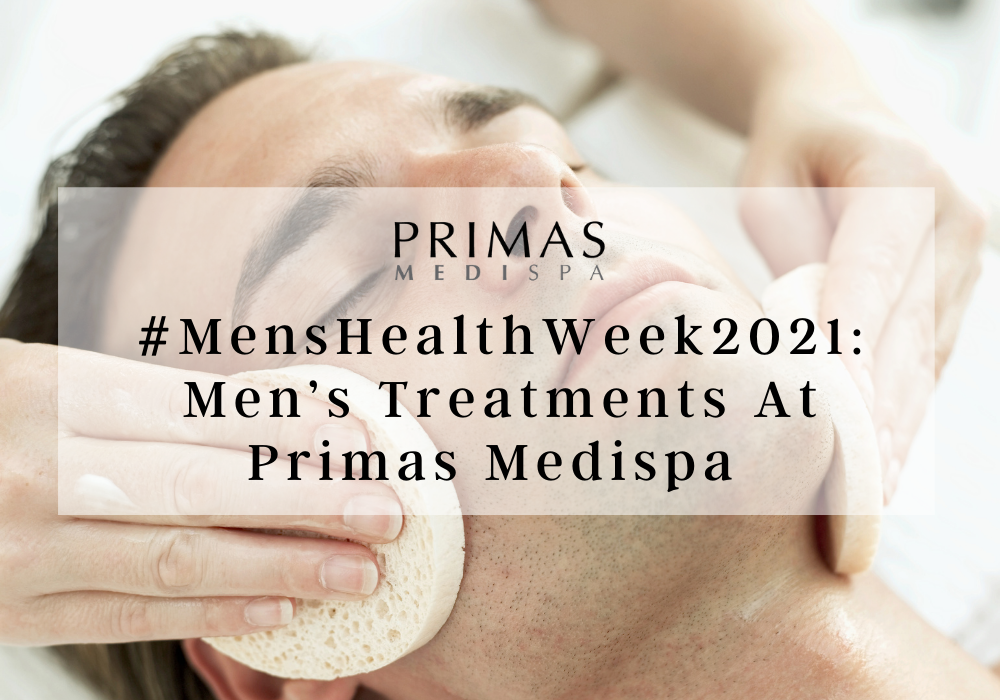 Top Treatments For Men At Primas Medispa:
Laser Treatments
Laser Hair Removal – Full Back, Back & Shoulders, Chest, Abdomen, Face etc
Laser hair removal is a popular choice with our male patients. We use the very latest diolaser technology as standard with all laser hair removal bookings – which gets rid of unwanted body / facial hair faster than other, older machines on the market; painlessly and permanently. Removing unwanted body hair restores patients' body confidence, eradicates the need for daily shaving & resolves issues caused using razors – such as razor burn, rashes and ingrown hairs.
Laser Thread Vein Removal – Nose & Cheeks
Laser thread vein removal at Primas Medispa London is another popular choice with men. This quick, painless treatment reduces the visibility of / removes spider veins, rosacea and broken capillaries on the face you may be conscious of. The quality of your skin is left improved, clearer and more youthful – a great tweakment to enjoy to reverse signs of ageing.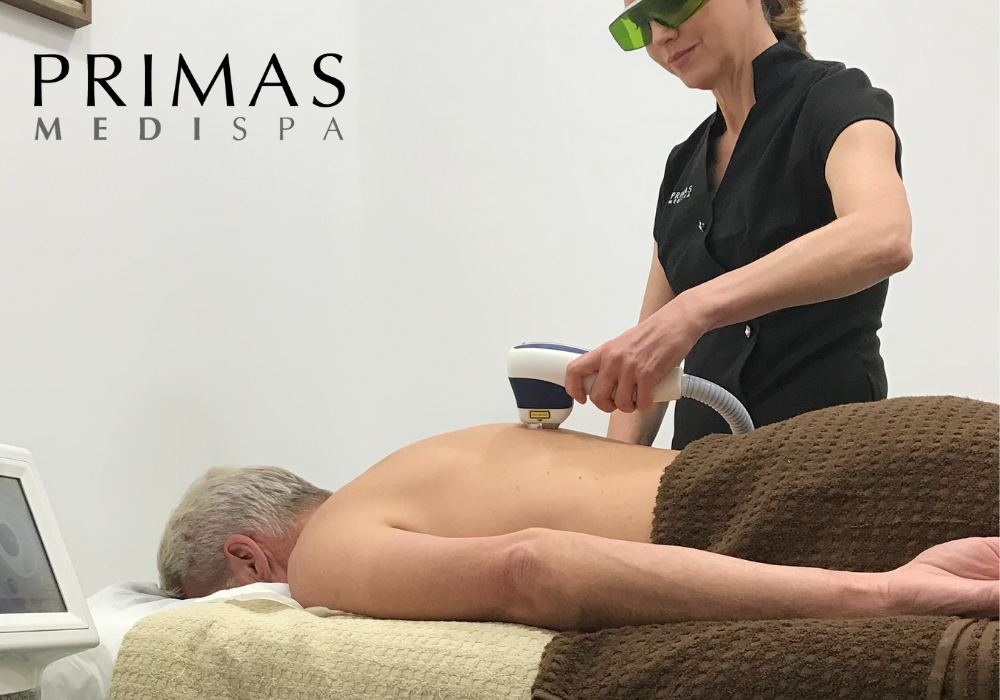 Facial / Skin Treatments 
Deep Cleanse Facials 
If you suffer with breakouts and congested pores, you may find that your home skincare regime doesn't quite hack it when it comes to clearing & maintaining your skin. There's only so much those pore strips can do! Deep cleanse facials at Primas are perfect for male skin (which needs TLC just as much as womens'!) – detoxing the skin with a deep cleanse, exfoliating away dead skin & other debris and finishing off with your clinician safely extracting blackheads and whiteheads; to reduce breakouts and clear congested pores. If you / the man in your life hasn't tried a facial before, now's a great time to book one. This article further explains some of the benefits facials have on male skin.
AQUA3 Hydrafacials 
One of the most popular treatments at Primas, AQUA3 Hydrafacials are painless, non-surgical advanced medical facial treatments which cleanse, exfoliate and detoxify the skin using water jets; flushing out blackheads, whiteheads and dead cells from even the thickest skin. During your treatment, your complexion is infused with vitamins, minerals and other skin nourishing ingredients, leaving it deeply hydrated and oxygenated. Brighter, tighter skin guaranteed!
Dermapen Microneedling
Microneedling is a fantastic, non-surgical solution when it comes to treating scarring, stretch marks and signs of ageing. It works by stimulating collagen production in the skin; rejuvenating and enhancing the quality of your complexion by encouraging it to heal from within. Great for surgical scars, fine lines, lack-lustre complexions and to target acne scarring.
Botox & Fillers 
Anti-wrinkle injections (Botox) are a popular treatment with men – helping reduce visible signs of ageing for a rejuvenated, fresher appearance; such as forehead lines, crows feet, frown lines and wrinkles. Dermal fillers can also be used in the same way; restoring lost plumpness, hydration and volume to the skin.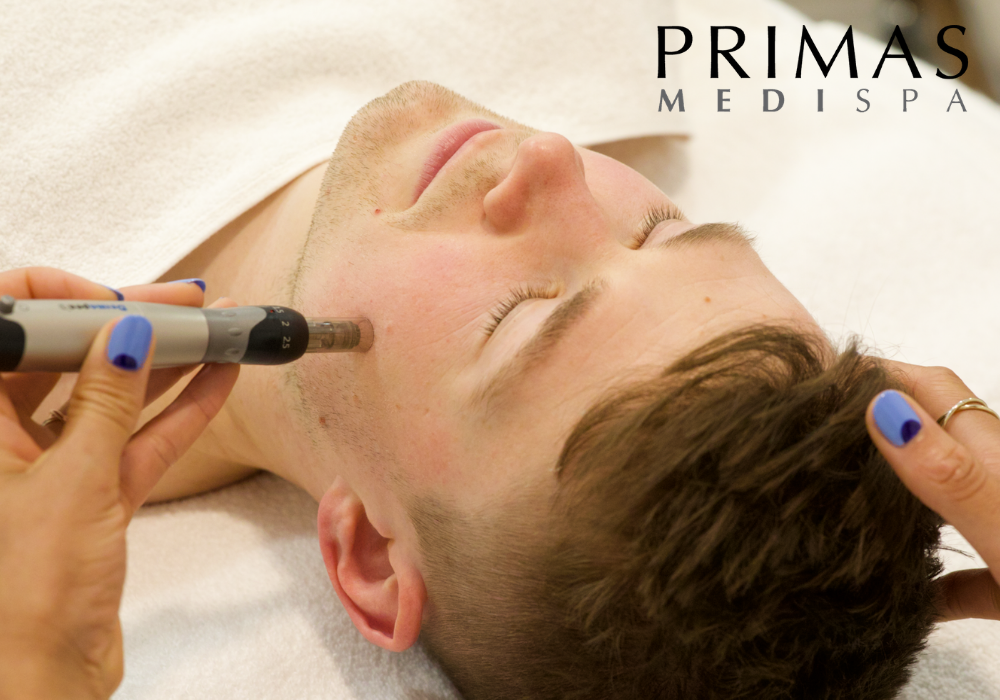 Body Treatments 
Pressotherapy Lymphatic Massages – All Body
Pressotherapy Lymphatic Massages are a holistic treatment – some of the benefits of which include weight loss, relief of muscular pain and bolstered overall levels of health. These relaxing, body detoxifying treatments are one we highly recommend to everyone – particularly if you've been feeling a bit run down and want to boost your immune system / kickstart a new, healthier lifestyle. 
Cryo Shape Fat Freezing – Abdomen, Thighs, Hips, Flanks, Back, Chin etc
If you're struggling to shift stubborn pockets of fat – no matter what diet you start, or exercise regime you stick to, Cryo Fat Freezing at Primas Medispa may be the answer. This cutting-edge fat freezing technology targets stubborn fat cells in the body; crystallising them, after which they die and are flushed out of the body naturally.
Accent Prime Cavitation – Abdomen, Thighs, Hips, Flanks, Back, Chin etc
Accent Prime is one of the most cutting-edge, non-surgical treatments on the market when it comes to combining skin tightening, reducing fat and contouring the body without invasive surgery, and all of the risks this can entail. It can be used to treat stretch marks, scars and melasma; rejuvenating and evening out skin's tone.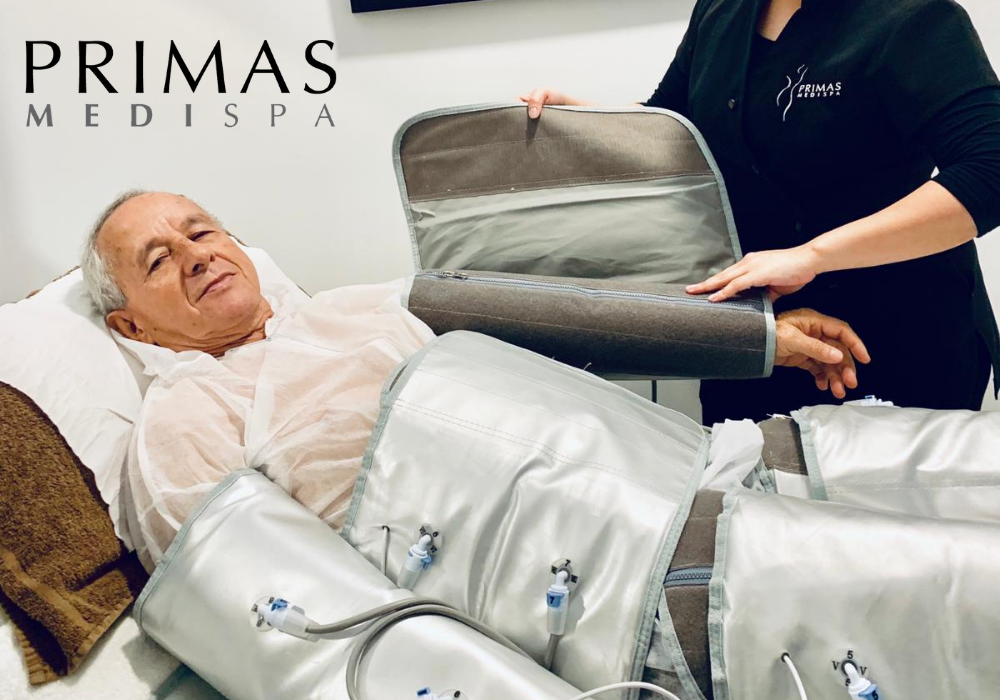 Massages 
Our range of massages are ideal to book as a gift for a loved one – or are great to enjoy post-workout, after a tough week at the office or to relieve tension on a past injury. We offer: 
Full Body Massages, 50 mins (Helps relieve chronic aches and reduces muscle tension)

Back & Shoulder Massages, 40 mins (Reduces muscle and joint tension)

Deep Tissue Massages (Targets tightness and knots, which can lead to pain or discomfort as the massage therapist works on areas of concern… but are totally worth it afterwards!)
Hair Removal – Waxing: Abdomen, Full Back, Shoulders, Intimate Areas
Waxing is an effective way to achieve long-lasting, smooth skin and remove body hair; without the hassle of shaving (and razor burn / bumps.) An affordable option that's simple, care-free and over in minutes.
Whether you're looking to book a treatment for yourself, or are reading this thinking of treating one of the men in your life to a confidence boosting treatment, we have something on the menu for everyone and every-body. Everyone is welcome at Primas Medispa – no matter your gender.
Book now and take advantage of our exclusive Father's Day / Men's Health Week 2021 offers!